Instagram is one of the famous social networking applications that has become a powerful tool that enhances and elevates communication between people and allows them to share content such as images, videos, etc., with their friends and followers.
It also enables the users to send audios, texts, and images and carry out video calls and voice calls through its direct message feature.
The challenge required is one of the error messages that gets displayed by the Instagram developer's end whenever they fail to establish a proper connection with the server.
It usually occurs whenever you log in from any web server, not the Instagram application.
Through these error messages, Instagram also asks you to prove that you are the actual owner of the account that you are logging in from.
What Does "Challenge Required" Mean On Instagram?
Challenge required message appear on the screen when Instagram is not able to establish a secure connection with servers.
Also, Instagram displays the message whenever your try to log in from a web server or an unrecognized device.
It means that Instagram asks you to prove your ownership of the account to prevent any bot action.
Therefore, it is just a preventive measure, and a protocol carried out by Instagram to protect your account from hacking and bot intervention.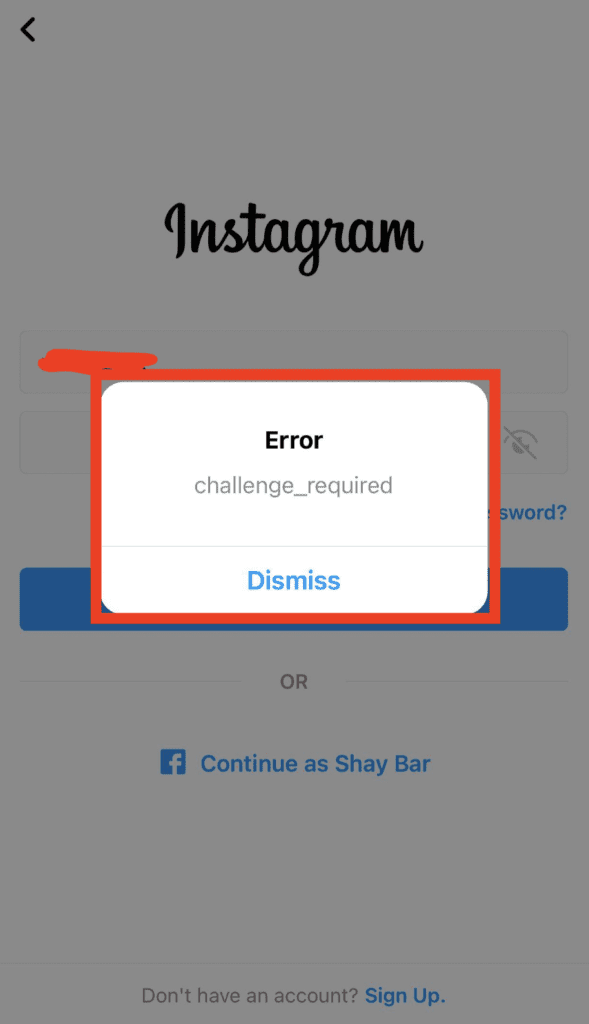 Why Does Instagram Say Challenge Required?
A suspicious login is noticed in your account.
Through the "challenge required" message, Instagram asks you to prove your identity and ownership of the account.
This is done to prevent unauthorized, third-party access and bot action.
It may occur because of the following reasons:
It is also possible that Instagram might have blocked your IP address because one of your comments might have been flagged as offensive.
Instagram's server may be down.
There may be an issue with your network connection.
You might have logged in from a different unauthorized device.
You may have logged in from any unknown third-party application.
You might have used the older version of Instagram, and your app might not have been updated to the latest version.
Your device may not have been updated to the latest version.
How To Fix "Challenge Required" On Instagram
Fix 1: Log In From Your Mobile
Try logging in from your mobile phone's Instagram application or Instagram website or from any authorized device and set up the two-factor authentication once you can gain access to your account.
Try logging in from a different web browser, as it might solve your issue and help you access your Instagram.
Fix 2: Update Your Instagram App
Go to the play store, search for the Instagram application and then update the app if any updates are available, as this error might have occurred because of the older version of Instagram.
Fix 3: Clear The Cache
Go to the phone settings, select app management, and search for Instagram.
Tap on it and then select the clear cache option.
This clears the unwanted cache of the Instagram application, which might have caused the error.
Fix 4: Update Your Device
Check for the updates in your device's system settings, and download and install the updates.
And then try logging in to your Instagram account.
Fix 5: Check Your Internet Connection
Check whether your Internet connection is working fine or not.
Try switching from mobile data to Wi-Fi or vice versa, and then log in to your Instagram account.
Fix 6: Wait If The Server Is Down
You can check whether the Instagram server is down or not on the Down Detector website.
If so, then wait until Instagram resolves the bugs and glitches.
Fix 7: Re-install The Instagram App
Uninstall your Instagram application, and then, from the play store, download it again after a few minutes.
This may resolve the challenge required error.
Fix 8: Log Out From Other Devices
Log out from other devices because this may be why Instagram is preventing you from accessing your account, as you might have already logged in from various unknown and unauthorized devices.
Fix 9: Force Stop The Instagram Application
Go to the app management in your device settings, search for Instagram and tap on the force stop option.
Then after a few minutes, open your Instagram and try logging in to your account.
Fix 10: Talk To Instagram Support
Now, if any of the above-mentioned methods didn't work for you, you can also try to reach out to the Instagram support team.
You can talk to Instagram support via https://help.instagram.com/.
Also Read:
Instagram Challenge Required Not Loading
Challenge Required message appeared on the screen, and the authentication page not loading is one of the common issues you may face.
There must be some issue with your internet connection.
You can simply turn off and turn on your internet, or you can also restart the application and check if it works.
Conclusion
The "challenge required" error message is displayed on your Instagram to prevent your account from unauthorized access and hacking.
It is a preventive measure or protocol that Instagram takes up to prevent any bot action.
It can occur because of many reasons like your poor network connection, you might have logged in from various unknown devices, you might be using an older version of Instagram, etc.
You can resolve it by updating your Instagram, clearing your cache, logging out from unknown devices, re-installing Instagram, etc.
Similar Posts: