Foxtel is a popular TV subscription service with lots of entertainment options.
Sometimes, users may face errors like AS4037 while using it.
This error can be annoying for those who want to watch their favorite shows.
The full error message reads: "AS4037 Only Foxtel Now account holders have access to this service. Error Code: AS4037"
In this article, we'll explain why this error happens and offer simple steps to fix it.
What Causes Foxtel Error Code AS4037?
There have been numerous reports of this error occurring among users of smartphones, Smart TVs, and PS4 consoles.
The exact reason behind the occurrence of this error might be due to using a VPN or having multiple devices logged in.
It is highly likely that there might be a network issue affecting your internet connection, or Foxtel may be experiencing server-related problems.
Another potential cause could be a loose cable connection, particularly if you encounter this issue on your TV or PS4.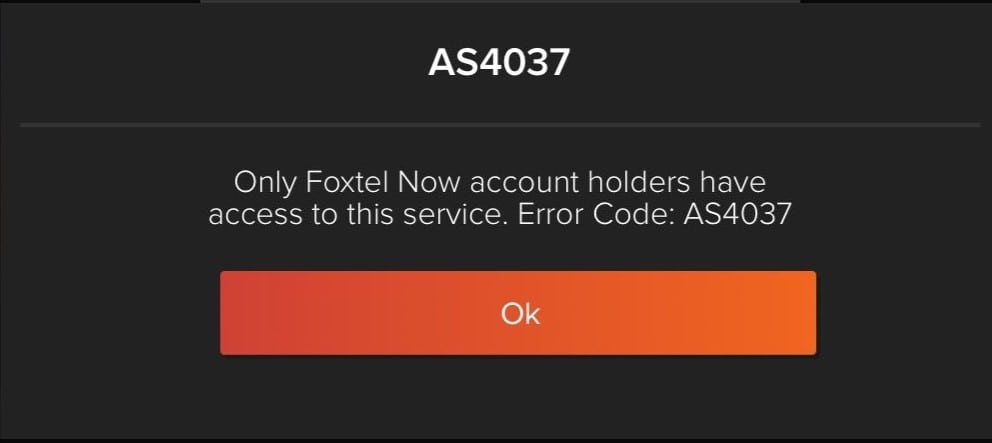 However, it's essential to note that there is no official statement from Foxtel explaining why this error occurred in the first place.
We do have some suggested fixes that might resolve this issue for you, and if they don't, we highly recommend reaching out to the support team for further assistance.
How To Fix Foxtel Error Code AS4037?
Here are some fixes that might help you with the issue:
1. Check Your Internet Connection
Before you start troubleshooting, first make sure that your internet connection is steady and stable.
Here are the steps to Check your internet connection:
Turn off your router or modem, wait for a few seconds, and then turn it back on.
If the problem persists, you can reset your network settings on your device. Go to the network settings menu and look for an option to reset or restart network settings.
Try connecting your device to a different Wi-Fi network or switch to a cellular data network to see if the issue is specific to your current network.
If possible, try connecting to the internet using a different device, such as a smartphone or tablet, to see if the issue is specific to your device.
2. Check The Foxtel Server Status

If your internet connection is fine then, you check the server status of Foxtel.
If servers are down that might cause error AS4037, you may have to wait for them to become operational again.
3. Log Out For Foxtel Form All Device
This error might be occurring due to multiple devices logged in, so log out from all of your devices, and then try to log in again.
After logging in, check if the issue has been resolved or not.
4. Disable VPN
If you're using a VPN, turn it off when using Foxtel, as it can cause not identifying your IP address and trigger the error.
This can happen because Foxtel might have tracked your IP address, and your current IP address is not recognized by the website.
5. Check For Foxtel App Update
Make sure you are using the latest version of the Foxtel app to avoid any issues with Foxtel.
To check for any new updates, visit the app store on your device, search for the Foxtel Foxtel app, and if an update is available, make sure to install it.
6. Reboot Your Device
One of the recommended solutions to fix the Foxtel error code AS4037 is to reboot your device.
This involves completely shutting down your device and then turning it back on.
Rebooting your device can help to refresh the system and clear any temporary glitches or conflicts that may be causing the error.
7. Check The Cable
Check your TV and Foxtel box or PS4 connections before troubleshooting.
If cables are faulty or not properly connected, the AS4037 error might appear, highlighting the need for correct connections to ensure everything works smoothly.
8. Clear Foxtel App Cache And Data
Sometimes, clearing the cache might resolve an issue, such as AS4037 on the Foxtel app.
After clearing the cache, check if the issue has been resolved or not.
Here are the steps for clearing the cache and date on your device.
Steps for clearing the cache and data on Android:
Open Settings > Apps.
Find and tap on the Foxtel app.
Tap on "Storage" or "Storage & cache."
Select "Clear cache" to remove temporary files.
Optionally, you can tap on "Clear data" to delete all app data, including settings.
Steps for clearing the cache and data on iOS:
Open Settings and go to the list of installed apps.
Locate and tap on the Foxtel app.
Choose "Offload App" or "Delete App" to remove it.
Visit the App Store and reinstall the Foxtel app.
Launch the app, log in, and the cache and data will be cleared during reinstallation.
9. Uninstall And Reinstall The Foxtel App
If none of the above-mentioned solutions has worked, then try uninstalling the application from your device.
Afterwards, check if the error AS4037 on Foxtel exists or not.
10. Contact Foxtel Support

If the options mentioned earlier don't work, contact Foxtel customer support and give them clear information about the issue and what you've already tried to fix it.
Similar Posts: