Are you getting "error performing query" error while performing any operation like add, update, delete, post on Facebook website, Facebook Dating, Facebook app, Messenger or in Facebook Marketplace?
Facebook, a leading social media platform, allows users to communicate, share updates, and explore content from around the globe.
However, like any digital service, users may occasionally face technical errors.
One such issue that has been reported is the "Error performing query" message.
In this guide, we will discuss what causes "Error performing query" error and how to fix it.
What Is "Error Performing Query" Error On Facebook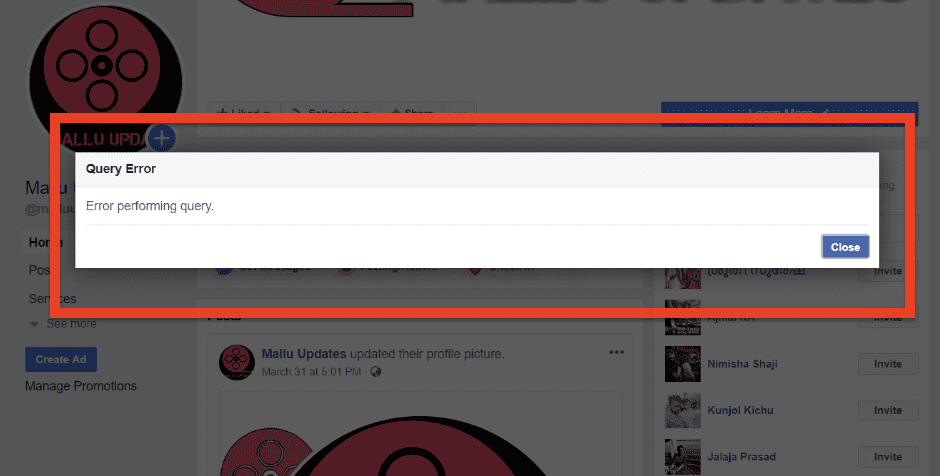 The "Error Performing Query" error on Facebook is a technical glitch that users encounter when there's a problem connecting to Facebook's database.
This error often arises during activities such as posting, updating accounts, or logging in with multiple accounts.
It is usually temporary and can be resolved with troubleshooting steps.
In rare cases, the error could be due to a problem on Facebook's server side, which can only be resolved by their technical team.
How To Fix "Error Performing Query" On Facebook
1. Refresh Your Network Connection
A stable and robust internet connection is crucial for any online activity, including using Facebook.
Disconnect from your current network, wait for a few moments, and reconnect.
If you're on a mobile device, try switching between Wi-Fi and mobile data to see if the error persists.
Resetting your router can also help.
2. Refresh The Facebook
Sometimes, simply refreshing your Facebook page can resolve this error.
If you're using Facebook on a web browser, press F5 on your keyboard or click the refresh button next to the address bar.
If you're using the Facebook app, close the app completely and then reopen it.
3. Update Your Facebook Application
Outdated applications can often lead to compatibility issues and trigger errors.
Ensure your Facebook app is up-to-date:
For Android Users:
Open the Google Play Store app.
Tap Menu and then My apps & games.
Apps with an update available are labeled "Update."
Find Facebook and tap Update.
For iOS Users:
Open the App Store.
Tap your profile icon at the top of the screen.
Scroll down to see pending updates and release notes.
Tap Update next to Facebook.
4. Clear Your Browser Cache
Browser cache and cookies can sometimes cause issues if they're outdated or corrupt.
Here's how to clear them:
Google Chrome:
On your computer, open Chrome.
At the top right, click More and then More tools > Clear browsing data.
Choose a time range, like Last hour or All time.
Check 'Cookies and other site data' and 'Cached images and files'.
Click Clear data.
Mozilla Firefox:
Click the Library button, click History and then Clear Recent History.
Set Time range to clear to Everything.
Click on the arrow next to Details to expand the list of history items.
Select Cookies and Cache and click Clear Now.
5. Wait And Retry
If the error persists, it might be due to a temporary server-side issue.
In such cases, wait for a few minutes and then try to access Facebook again.
6. Report The Issue To Facebook
If none of the above steps resolve the issue, it's advisable to report the problem to Facebook.
The error could be on their end, and they need to be aware of it to fix it.
Similar Posts: