Are you getting error code E003 on Navien?
Navien makes tankless water heaters and boilers for both residential and commercial use.
Regarding tankless water heaters, Navien is a reliable option because of Utilizing cutting-edge, high-efficiency technology.
A business that values quality, design, and usability produces its products.
There are large number of error code for Navien.
Many issue can be resolved by simply resetting the water water heater but some require more work.
In this guide we will discuss about Navien error code E003 and how to fix it.
What Is Navien Error Code E003?
Navien Error Code E003 means failure in failure in the ignition.
This can be caused by number of different factors, such as a malfunctioning igniter, a problem with the gas supply, or a power failure.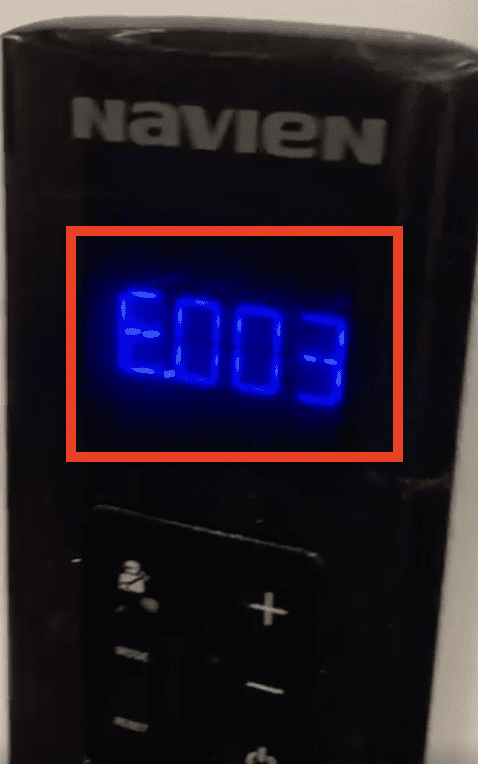 If you unplug and plugging again then it work work fine and clear the code.
But it will come after some time.
According to Navien technician, if you are not unplugging it for long enough that possibly the reason it came backhand you need to leave it unplugged for at least 30 seconds 
How To Fix "Error Code E003" On Navien?
To "Error Code E003" on Navien make sure you follow below steps:
If you unplugging it then wait for atelase 30 sec and plug again. It will work fine.
Make Sure Gas Supply is ON and working fine.
Make Sure Power is ON
Also check igniter for spark
To turn the Navien water heater on or off, press the Power button.
When the power is ON, the temperature will appear on the front panel display.
If an error message still appears, You can try resetting the water heater to resolve the problem.
To reset the water heater, press the Reset button.
Similar Posts: