Are you getting error code 19005 in Star Citizen?
Star Citizen is a highly anticipated space exploration game that has gained a lot of attention from gamers around the world.
However, like all other games, players may encounter errors and bugs during gameplay that can disrupt their experience.
One such error is the "ERROR – CIG services [CODE 19005]" followed by "Account Login Failed, Please verify your login credentials and try again, This was encountered during the phase of Hub Authentication".
In this blog post, we will explore the possible causes of Error Code 19005 and provide solutions to help players overcome this issue and continue their journey in the Star Citizen universe.
What Causes Error Code 19005 On Star Citizen
Error code 19005 is an error message that can occur during the Hub Authentication phase of Star Citizen. This error message typically appears when a player's login credentials are not verified, resulting in a failed login attempt.
Error code 19005 on Star Citizen usually occurs due to the server being overloaded as unable to handle a large number of user logins at the same time or bug/ glitch in the game.

Here are the following reasons:
Star Citizen Game server may be down
Minor glitches in the Star Citizen Game Application
Network issues
Star Citizen Game Client failed to communicate with server.
How To Fix "Error Code 19005" On Star Citizen?
If the issue is due to heavy traffic to the server, it is common; it gets cured after a few hours when the initial login load is reduced.
If the error persists for longer hours than usual, then we also require troubleshooting from the Star Citizen Game client side.
The first and foremost thing is to make sure your internet is working fine.
Let's get into the troubleshooting steps:
1. Check The Star Citizen Game Server Status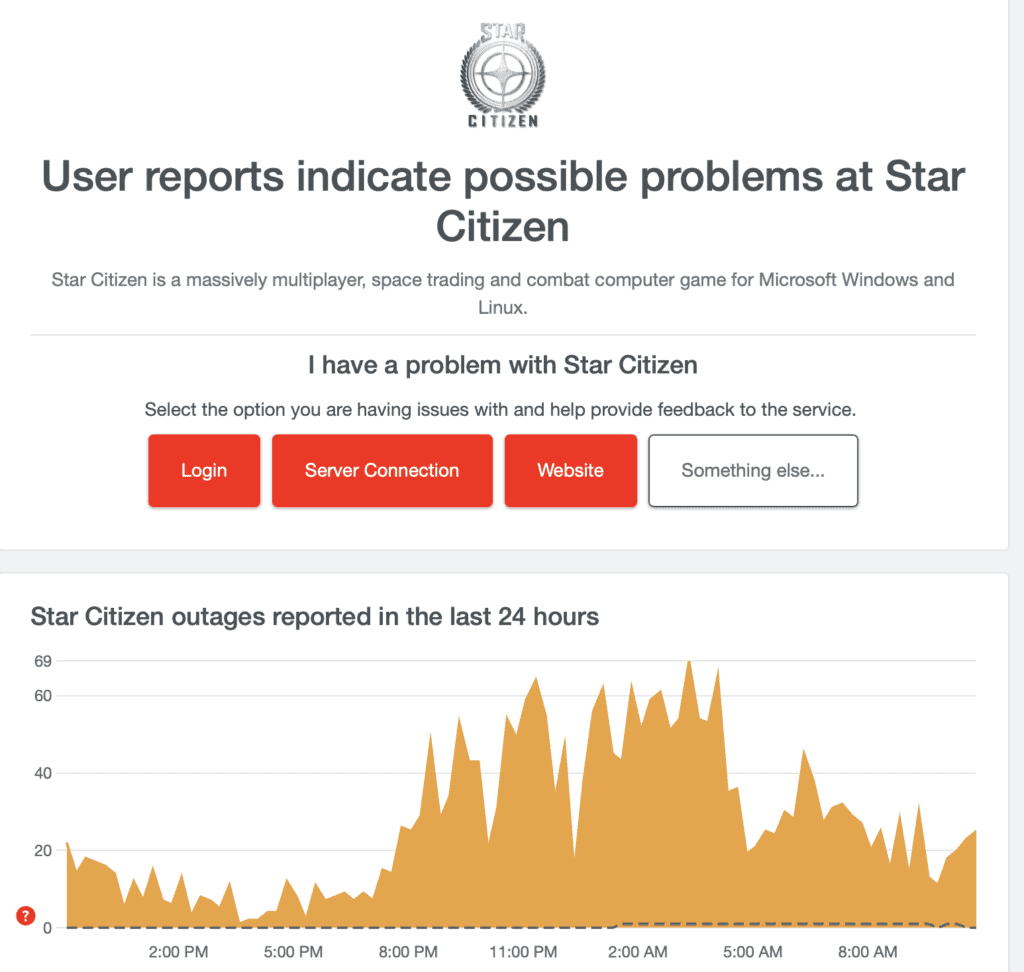 Check the Star Citizen server status, where you can find user reports if there is any common error currently haunting the entire Star Citizen Game system. Here is the link: https: //downdetector.com/status/star-citizen.
If everyone faces the same error as yours, the Star Citizen team should take the necessary steps to eradicate the Error Code 19005 on Star Citizen.
If Star Citizen server is down or overloaded than you can't do much in this.
You just have to wait till the server is less overloaded or bug is resolved by Star Citizen team.
2. Logout And Login Your Star Citizen Game
Commonly, users might have enabled "keep me logged in" option to avoid re-login.
Or they may not close the Star Citizen Game Application for long hours, and the portal may remain login.
Since there is a new release, you need to give some time to process the new features.
You must Logout and close the Application.
Then try login in again after some time.
Now you can play your game smoothly without any like Error Code 19005 on Star Citizen.
3. Relaunch Your Star Citizen Game
Relaunching the Star Citizen Game will help you to eliminate any glitches or clashes inside the Application caused during the new update.
Shut down your Application, relaunch your game, and Wait until it completes loading.
Make sure your internet is stable and working fine.
Doing so resets Error Code 19005 on Star Citizen that occurred before, and you can log in successfully.
4. Clear Cache & Restart Your Device
Clear your device and Star Citizen Game temporary files. Empty your recycle bin.
Deleting your user folder from Star Citizen Game will remove any login issues.
Here are the steps:
Open a "file explorer" on your PC
Go to the folder path of your Star Citizen Game. The default path is C:Program FilesRoberts Space IndustriesStarCitizenLIVE.
The path varies depending on your Star Citizen game installation location.
Then, Delete the "USER folder."
Do proper "Shutdown", wait a few minutes, and "Power On" your system.
It fully clears any remaining Windows memory cache with incorrect or corrupt information.
Now launch your Star Citizen and try logging in.
If it doesn't work, then verify the game file in Steam.
5. Verify Star Citizen Game files In Steam
Steam helps you check each file in the game's installation and compare them to what Steam believes is the correct version.
Steam repairs any files that it believes are corrupted.
Here are the steps to verify game files in Steam:
Open "Steam client" on your PC
Select "Library" at the top of the screen
Right-click on Your "Star Citizen Game" in the list on the right sidebar
Tab on "Properties".
In the properties windows, select "Local files."
And Tab on "Verify Integrity of the game file."
Now Steam begins to verify the file. It will take a few minutes to complete the process.
Once you complete the verification, don't be upset if you find any errors.
Reopen your game portal and try logging in again because the error might resolve automatically sometimes if the Error Code 19005 on Star Citizen from the server side.
If you get Error Code 1900 during login, you need to uninstall the game completely and Install the Star Citizen Game again.
Thanks for reading. I hope you able to fix the Error Code 19005 on Star Citizen.
Similar Posts: