Discord is a commonly used communication platform among gamers, creatives, and communities to interact and cooperate.
Its Rich Presence feature enables users to showcase their current status, activity, and game-related specifics.
However, users sometimes encounter issues where the Discord Rich Presence feature is not working.
The error message typically reads: "No game detected What are you playing?!"
In this article, we'll explore the reasons why Discord Rich Presence may not be working and how to fix it.
Why Is Discord Rich Presence Not Working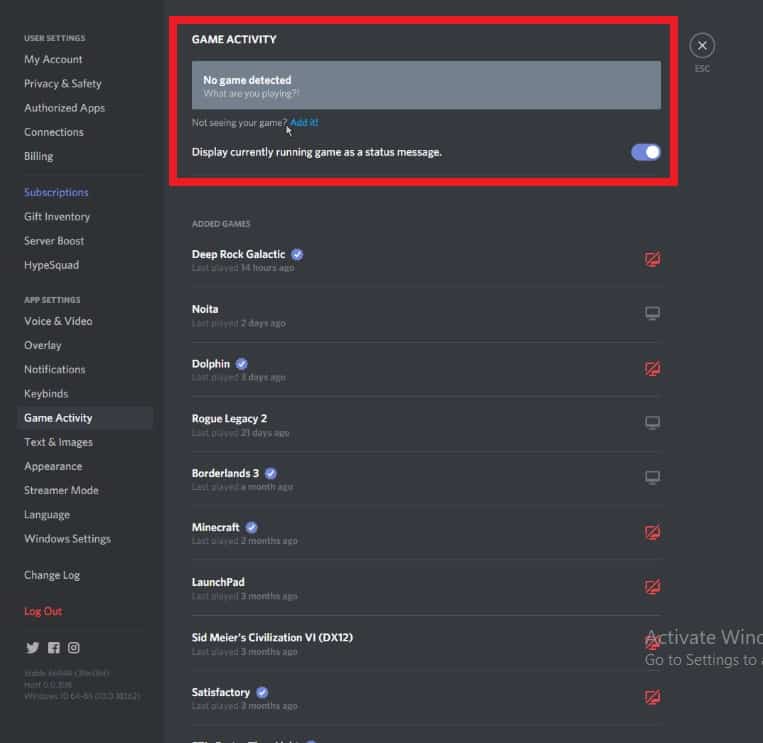 The Discord Rich Presence is a feature that permits users to display their current activity and status within a game.
It has the ability to exhibit the game being played, the ongoing status (such as in a lobby, playing solo, or in a party), and the player's progress or accomplishments.
The details can be showcased on the user's profile, simplifying the process for friends to join them in the game.
Although Discord has not released any official statement or forum regarding the causes of this error and its fixes, we have researched several forums and discovered various workarounds that you can attempt to resolve the issue.
How To Fix Discord Rich Presence Not Working
In case you are encountering problems with Discord Rich Presence, there are multiple steps you can take to troubleshoot and solve the issue.
The following are some of the most efficient solutions:
1. Turn The Discord Rich Presence Feature On And Off
Turning the Discord Rich Presence feature on and off might be a solution to fix the issue when it is not working.
This process includes deactivating and reactivating the feature in Discord, which can refresh the Rich Presence status and probably solve any bugs or problems.
2. Restart The Discord App
Restarting the Discord app is a potential solution for troubleshooting when experiencing issues with Discord Rich Presence not working.
This step can assist in resetting any transient problems or glitches in the app that could be impeding Rich Presence.
3. Run Discord As An Administrator
Running Discord as an administrator could potentially help to resolve issues with Discord Rich Presence not working.
This is because it grants the app elevated privileges and permissions, which can help to overcome any access or compatibility issues that might be causing Rich Presence to fail.
To run Discord as an administrator, right-click the Discord icon and select "Run as administrator" from the context menu.
If prompted, enter your admin credentials to grant permission.
4. Installing VCRedist2015 X86
In some cases where Discord Rich Presence is not working, installing VCRedist2015 x86 could be a potential solution.
This is a Microsoft Visual C++ Redistributable package that includes runtime components of Visual C++ Libraries necessary to run applications created with Visual C++ on a computer that does not have Visual C++ 2015 installed.
5. Manually Add Your Game
Adding games manually to Discord can potentially resolve issues with Discord Rich Presence not working, especially if the game is not recognized automatically by Discord.
Here are the steps to add a game manually to Discord:
Open Discord and go to "User Settings" by clicking on the gear icon at the bottom of the screen.
Click on the "Game Activity" tab on the left-hand side of the screen.
Scroll down and click on the "Add It!" button under the "No Man's Sky detected" message.
In the "Add a Game" window, select the game executable file (the .exe file) by clicking on "Browse".
Select the game's executable file and click on "Open".
Edit the game's name and select the appropriate game details, such as the cover art and any other relevant information.
Click on "Add Game" to add the game to Discord's library.
5. Contact Discord Support
If none of the above solutions work, contact Discord support for further assistance.
They may be able to provide additional troubleshooting steps or escalate the issue to their development team.
You can contact Discord support by going to their support page.
Here is the link to their support page:https://support.discord.com/hc/en-us
Similar Posts: