Are you a fan of Call of Duty: Modern Warfare 3 (MW3) and struggling with the Golden Ivory not tracking or working? You're not alone.
Many players have reported issues with unlocking the Golden Ivory camo for their favorite weapons in Zombies mode.
The good news is that there are several solutions available to fix this problem.
In this blog post, we'll explore some of the most effective methods to help you get past this frustrating issue and unlock the Golden Ivory camo.
Whether you're a seasoned player or new to the game, this guide will provide you with the tools you need to overcome the Golden Ivory tracking issue and get back to enjoying your favorite game.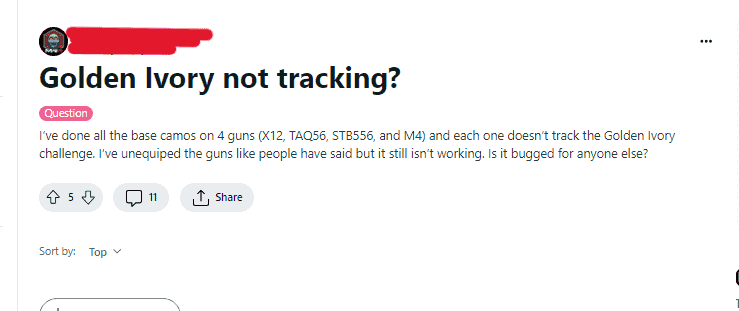 How To Fix COD Modern Warfare 3 (MW3) Golden Ivory Not Tracking/Working
1. Restart The Game
This is a simple but effective solution that has worked for many players.
Press the home button on your Xbox or PlayStation controller to return to the main console screen.
Select Modern Warfare 3 and choose "Quit Game."
Wait a few seconds and restart the game.
2. Use The Gun In A Match
Some players have reported that the Golden Ivory only works when they pick up the gun in a match, get the kills, and extract with it.
If you're having trouble unlocking the camo with weapons you bring yourself, try this method.
Start a match in Zombies mode.
Look for a weapon with the Golden Ivory camo that you want to unlock.
Pick up the weapon and use it to get the required number of kills.
Extract with the weapon to complete the challenge.
3. Wait For A Fix
Keep an eye on official channels such as the Activision Support Twitter account and the official Call of Duty website for updates on when this issue will be resolved.
4. Use Non-blueprint Weapons
Game8 reports that a fix is scheduled that will allow players to complete the Golden Enigma and Golden Ivory Completionist Camos with non-blueprint weapons.
Choose a weapon that does not have a blueprint equipped.
Use the weapon to get the required number of kills for the Golden Ivory camo.
Extract with the weapon to complete the challenge.
Similar Posts: