Did you experience "Failed to get service status"?
If that's the case, you're not alone as many users have encountered this problem while attempting to launch ChatGPT.
ChatGPT is an AI developed by Openai that allows users to generate information and content. Despite being a fantastic AI that can assist many people, it is not immune to problems and errors.
In this article, we'll examine at a few remedies that will assist you in resolving ChatGPT's "Failed to get service status" problem.
Why ChatGPT Failed To Get Service Status?
There can be a few reasons why ChatGPT failed to get Service Status on your device.
Below, we have listed the main reasons that might be the cause of this issue when you are trying to access ChatGPT.
ChatGPT is down at the moment due to a server outage or scheduled maintenance.
Too much traffic on the ChasatGPT Platform.
There is space when you are sending a message in ChatGPT
How To Fix ChatGPT Failed To Get Service Status?
In this section, we will be guiding you on how you can fix the ChatGPT error of failing to get service status on your device.
If you are seeing this error after you have been successfully able to log in to ChatGPT make sure that there is no space when you are typing or sending texts.
If you are seeing this error without even entering the platform then please follow the solutions below.
1. Check ChatGPT Server Status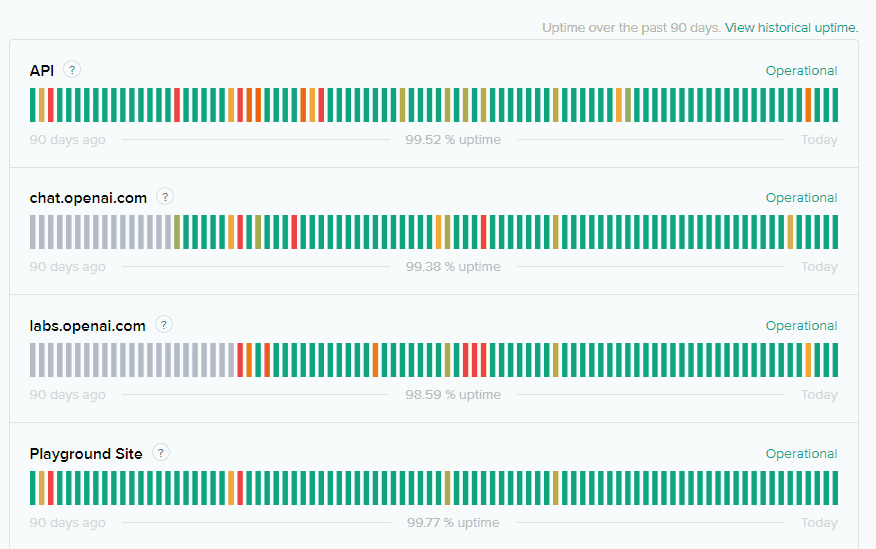 The ChatGPT server status is the first thing you should check.
You won't be able to access ChatGPT if the server is offline because of a malfunction or planned maintenance.
As an AI service, ChatGPT needs to connect to its server in order to perform its functions.
If it is unable to do so, it will stop working and display an error message that shows failed to get service status.
You can wait for a little before attempting to open ChatGPT once more.
2. Try To Login Later
If the "Failed to Get Service Status" error occurs due to high traffic on the platform, try logging in at a later time or during off-peak hours.
This approach will help you avoid potential bottlenecks and access ChatGPT without issues.
3. Refresh The Page Repeatedly
Refreshing the page often is another easy fix you can attempt.
Due to a system error, the software can occasionally show error messages.
As ChatGPT is still in beta version, its development process is still in progress.
As a result, there can be errors or issues that prevent ChatGPT from launching on your device.
In such a scenario, you can attempt to continually reload the page to see if it resolves the issue and loads ChatGPT.
4. Use A VPN To Open ChatGPT
You can also try using a VPN on the device as a workaround before opening ChatGPT.
Many users have reported that after trying to use a VPN with their system, they were able to access ChatGPT.
ChatGPT may not be supported in all regions. In that situation, it would be best for you to use a VPN and then check to see if ChatGPT is accessible.
A VPN is simple to set up by downloading it or requesting it from a VPN provider for your device.
5. Try To Login From A Different Account
As the last fix, you can try to log in to ChatGPT from another account.
Many users have suggested that keeping two accounts in ChatGPT has helped them immensely as they were able to log in with one when the other kept showing the error message and vice versa.
You can also sign up in ChatGPT with two emails and try this solution when one account is having trouble accessing ChatGPT.
6. Contact OpenAI Support Team
If above fixes not helped to fix the issue then contact the OpenAI Support Team or email them at [email protected] and then explain your issue properly.
Similar Posts: