Discord is the most popular online gaming chat platform. It has many useful features, and gamers love it because it is free to use and easy to share files among users.
This article will examine an extremely frustrating problem that Discord users face.
When you try to upload a file or post a picture or GIF, you see the error message like "Something went Wrong" and saying "The following files failed to upload" with the file upload error "discord cannot resize GIF."
This article will walk you through the steps to troubleshoot "Discord cannot resize GIF error," You can use Discord without any problems.
You can quickly fix this issue and get back on track with your plans and ideas.
What Causes The "Cannot Resize GIF" Error On Discord?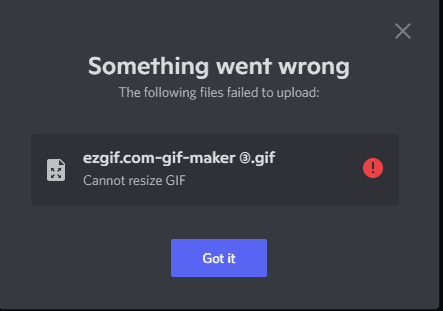 The "Cannot resize GIF" error occurs when Discord fails to resize the uploaded GIF file.
Discord resizes and optimizes the file automatically if the uploaded GIF does not exceed its File size limit.
Also note that, If the error occurs due to Discord server fault, nothing is in our hands; you need to wait for the Discord team to resolve the issue.
The Discord Cannot resize GIF error occurs because of the following reason
The file size exceeds the limit of that of Discord,
The GIF may not be compatible with Discord,
Wrong extension of GIF file
Reduced motion setting is on
Unstable Internet connection
Error within the discord server
These are the cause that prevents GIF from loading or uploading in Discord.
Now you know the cause for the "Discord Cannot Resize GIF" Error here. Now let us Understand how to prevent the error.
How To Fix "Cannot Resize GIF" Error On Discord?
Before uploading the GIF file to Discord, make sure that the
File size not exceeds the Discord size limit – 8MB for avatar GIFs and 256 KB for emoji GIFs,
Also check your Internet connection and its speed.
Check with Discord if they have any issues on their side. If there is any critical issue or common issue worldwide, it will be reported here. You can check the status here: https://discordstatus.com/
Double-check the extension, whether it is in GIF format or any other format like JPEG or PNG
Lets understand How to fix Discord " cannot resize GIF" error by resizing the GIF file.
1. Resize The GIF File
One of the most common issues with "Cannot resize GIF" is their size.
You can reduce the file size by cropping optimizing, cutting out frames and resizing your GIF file.
Exceeding the default size will prevent you from uploading your file on discord.
Check the file size on properties if your "GIF" file is not loading. Find the file size limit below.
The File Size Limit On Discord:
Avatar GIF file: 8MB; Emoji File Size: 126KB ; Maximum Pixel size :128 * 128; Minimum pixel size: 32*32.
Lets understand the file size first,
Right-click on the "Image File" you want to upload on Discord.
Click properties and check the file size.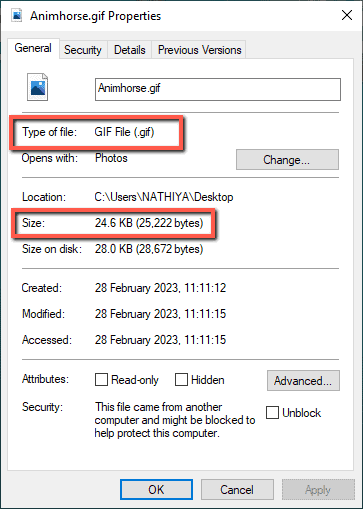 If the file size does not match the Discord limit, you must compress the file without changing the quality. The file can be shortened using an Online compressing tool or third-party software.
Thanks to free online tools, allow you to compress and optimize your GIF files without investing in paid software.
You can reduce the GIF file size by compressing or cropping the extra spaces in the GIF.
Online tools are easy to use, and you can compress, optimize or crop your GIF files in one simple click.
Compressing GIFs Using Online Tools
Visit any online compressing website tools. Examples: ezGIF.com, kapwing.com, and freeconvert.com
Upload your GIF file on the website
Crop or resize your GIF file using the editing option.
Download it and share it on Discord. As simple as it is.
Check out the Free online compressing tools link: https://ezGIF.com/ , https://www.kapwing.com/ , https://www.freeconvert.com/
EzGIF is easy to use tool, and I love to compress files using EzGIF. You can resize, optimize or crop your GIF file with a simple click. The advantage is you can see the file output and check the size before downloading the file.
Here are steps on how to use the ezGIF GIF compressing tool:
Step 1: Go to ezGIF.com and select Resize or Crop on the menu bar
Step 2: Click Choose File and open your file path in pop up window
Step 3: Choose your File and Click Open
Step 4: Click on the Upload button on ezGIF.com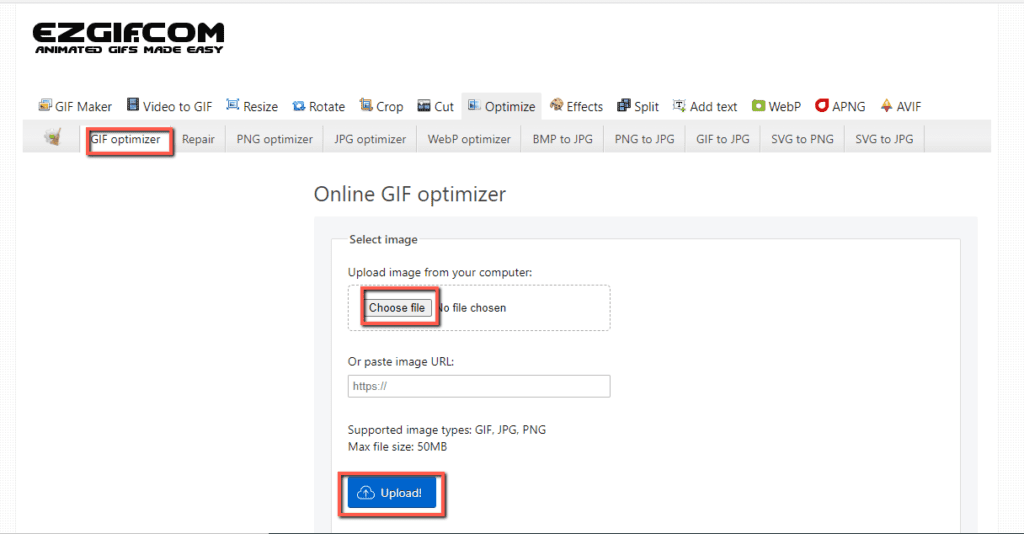 Step 5: Crop the unwanted space by dragging the box inside the image. Below the image, you can see the original file properties.
Step 6: Once you selected the cropped area, click crop image.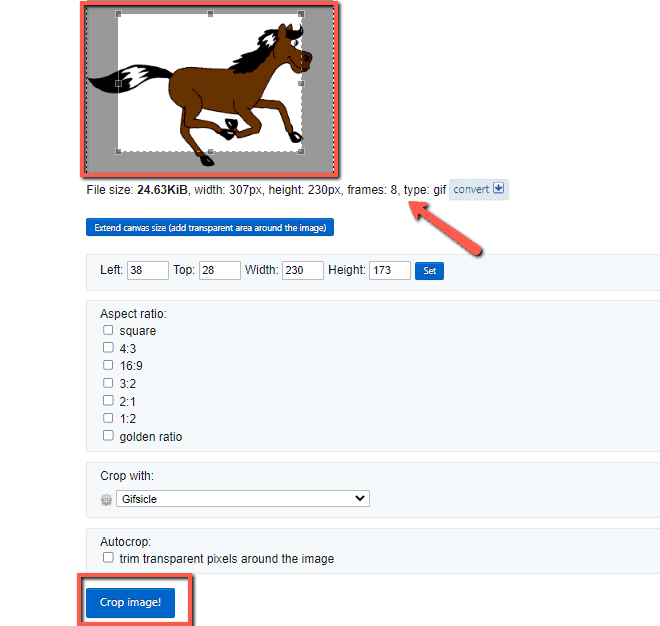 Step 7: Underneath, you can see the output file and click the Save icon.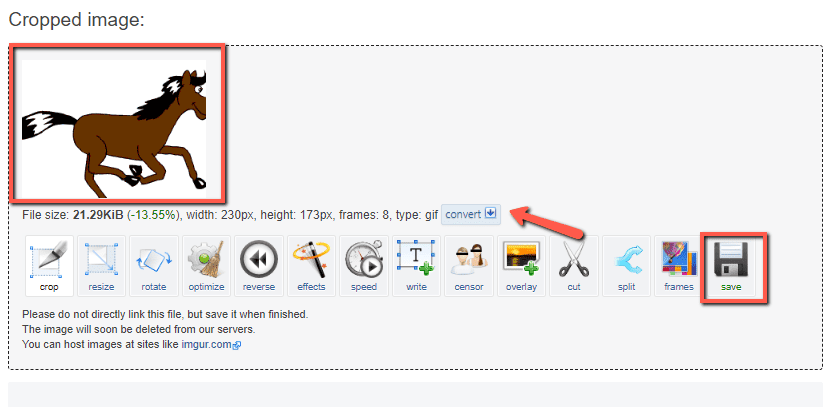 Other options like resizing and optimizing also works well in reducing the size of GIF.
You can use the "Optimize" button until the file is smaller than 256 kb. Make sure it's at most 128×128 as well.
Now you can enjoy uploading on Discord.
2. Turn Off Reduce Motion Setting On Discord
Though the setting has nothing to do with the Discord GIF error while uploading, it prevents the GIF file from auto-play from your Discord app. Sometimes, it might make you think that the GIF file on your discord is not working. To avoid this confusion, turn off Reduce motion setting.
Locate the Gear icon on the top left-hand side on Discord app.
Go to settings and select Accessibility from the right side menu
Toggle off the Reduce motion setting on Discord.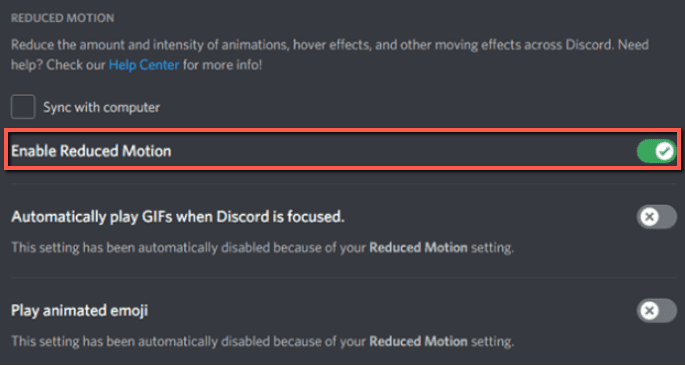 3. Double-Check Your File Extension
Yeah, it is always necessary to check your file extension. If you are in a hurry, you may have selected the wrong file. It happened many times in my experience. That's why I am pointing out that double-check the extension of your file.
4. Poor Internet Connection
An unstable internet connection will also result in "Cannot resize GIF ."So make sure your internet connection is stable and working fine.
If everything is fine, but you are still not able to GIF. Then turn off any malware protection software, and try uploading. It works well in most cases. Or you need to reinstall the Discord application.
I hope if you see the error "Cannot resize GIF" error again, you can rectify it quickly with a single click.
If you are familiar with any other tool or software like adobe photoshop, movie maker, Gimp, or Veed.io, you can also use that software to cut frames inside your GIF file.
Cutting frame at the end of the file does not make much difference.
Happy reading.
Thank you for your continued love and support.
Similar Posts: