Are you getting error "Failed to Load Leagues" in Awakened POE Trade?
If you're an avid Path of Exile player, you know the importance of having essential tools like Awakened POE Trade to optimize your gameplay experience.
This handy application allows you to quickly price-check items and provides valuable information to help you make informed decisions during your journey through Wraeclast.
However, you may have encountered an issue where Awakened POE Trade fails to load leagues, leaving you frustrated and wondering how to fix it.
Why Awakened POE Trade Failed To Load Leagues
Here are some common reasons why Awakened POE Trade might fail to load leagues: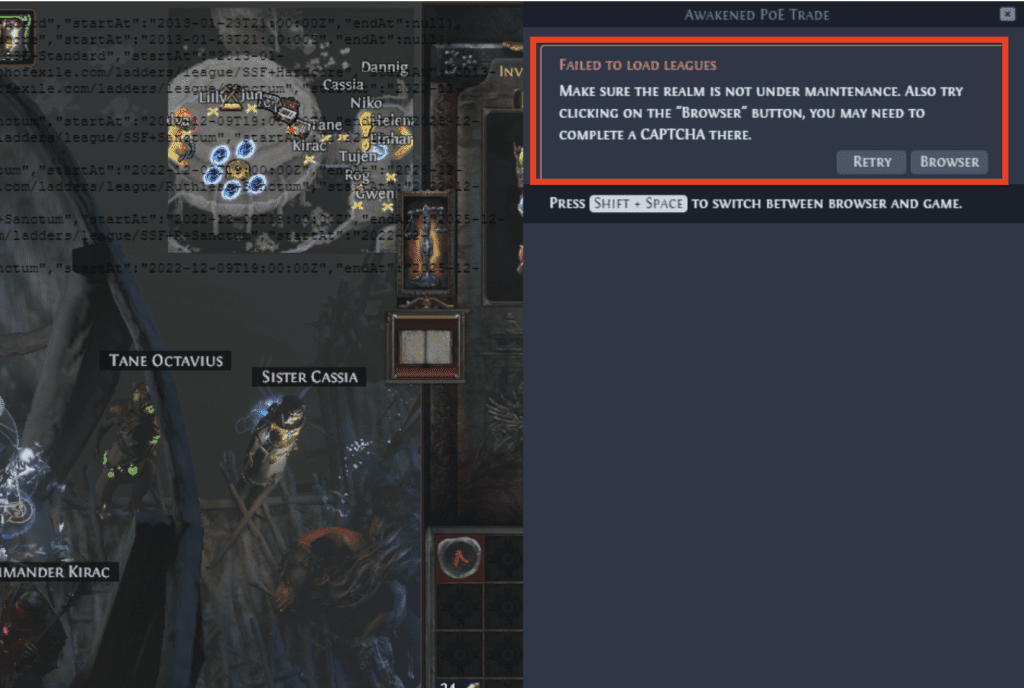 Connectivity issues: An unstable or slow internet connection can prevent the application from accessing the necessary data to load leagues. Temporary connectivity problems can also cause this issue.
API issues: Awakened POE Trade relies on the Path of Exile's API to fetch league data. If the API is down for maintenance, experiencing temporary issues, or undergoing changes, the application might not be able to retrieve league information, causing it to fail to load leagues.
Incorrect league information in the config file: The 'config.json' file within the application contains league information. If this file has outdated or incorrect league data, it may cause the application to fail to load leagues properly.
Application bugs: As with any software, Awakened POE Trade may contain bugs that cause unexpected behavior or errors, such as failing to load leagues. These bugs can be resolved by the developers in future updates.
Firewall or antivirus blocking: Sometimes, firewall or antivirus software may block Awakened POE Trade from accessing the internet, causing it to fail to load leagues. Ensuring that your firewall or antivirus is not blocking the application can help resolve this issue.
How To Fix Awakened POE Trade Failed To Load Leagues
1. Check Your Internet Connection
Make sure your internet connection is stable and working properly.
Restart your modem/router if necessary.
Temporarily disable any VPN or proxy service that might interfere with the connection.
2. Update The League Information In The Config File
Right-click on the Awakened POE Trade tray icon and select "Open Config Folder."
Open the config.json file using a text editor such as Notepad.
Locate the "leagueId" string within the file. You should see something like leagueId: "Ruthless".
Replace the existing league name with the current league name (e.g., replace "Ruthless" with "Crucible").
Save the changes and close the text editor.
Close the Awakened POE Trade application from the system tray icon and restart it.
3. Reinstall The Application Or Try Using A Previous Version
Uninstall the current version of Awakened POE Trade from your system.
Download the latest version or a previous version of the application from the GitHub releases page: https://github.com/SnosMe/awakened-poe-trade/releases
Install the downloaded version and launch the application.
Make sure to set the appropriate league after installing the older version.
4. Check Your Firewall And Antivirus Settings
Open your antivirus or firewall software settings.
Look for an option to add an exception or allow an application through the firewall.
Add Awakened POE Trade to the list of allowed applications.
Save the changes and restart the application.
5. Wait For Some Time And Try Again
If the issue is caused by a temporary problem with the Path of Exile API, it might resolve itself after some time.
Keep an eye on the application's GitHub page (https://github.com/SnosMe/awakened-poe-trade) and the Path of Exile subreddit (https://www.reddit.com/r/pathofexile/) for any updates or announcements regarding the issue.
Similar Posts: