Dolly Khanna – About
Dolly Khanna gives tough competition to men through her investing strategies. There is nothing today where the woman is not participating.
Women today show unexceptional talent and give a throat-cut competition in all the fields. Whatever be the field, women have their unique set of skills.
India is a developing corporate sector today. Hats off to all the women, who have been doing exceptionally well in all fields. 
Stock market and investment were taken as a man's field. The women have proved that a business venture is not only a male-stronghold anymore.
Adding to this, the Indian investors are promoting entrepreneurship through their roles. Dolly Khanna is one such woman with capital investments in new businesses. She is also empowering and supporting young women who are looking for business ventures.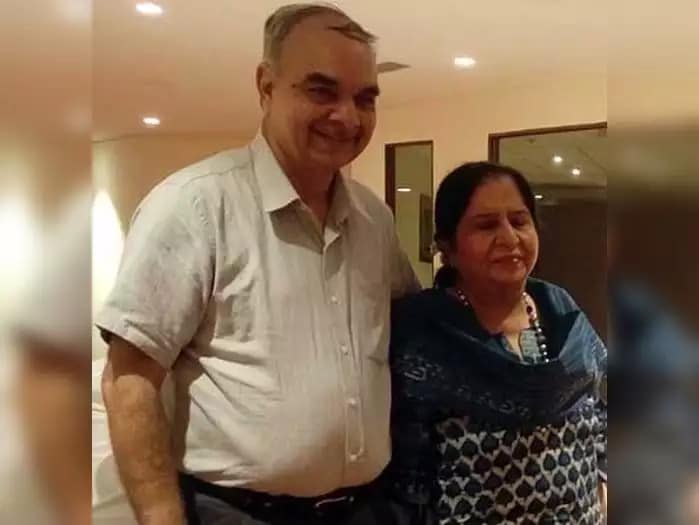 Source: navbharattimes.indiatimes.com
Who Is Dolly Khanna?
Dolly Khanna is a Chennai-based renowned investor. She is known to acquire a landmark in the stock market.
Her outstanding performances started in 1996. Rajiv Khanna, spouse of Dolly Khanna manages her stocks. These stocks are mainly about manufacturing, textiles, chemical, and sugar stocks. 
The couple started their journey from these stocks. They over-performed in the stock market.
Dolly Khanna Net Worth
Dolly Khanna is considered one of the top investors in India. He has an estimated net worth of over 390 crore rupees.
She has won many awards and accolades for her success and contributions to the financial and cultural world of India.
Dolly Khanna: Investment Days
Dolly Khanna is the mastermind in creating her portfolio. The strategies which she applied are quite awesome.
Rajiv Khanna, her spouse is an IIT graduate from madras. In 1986, he launched his frozen yogurt company named "Kwality Milk Foods". Though to raise capital for investment; Kwality Milk Food was sold to Hindustan Unilever in 1995.
The couple is multi-baggers in terms of the stock market and has fascinating actions that are endlessly worth it.
Khanna's are known to have acquired 'Nilkamal'. 'Nilkamal' is India's largest producer of office and home furniture. The stock rose from Rs. 1930 to Rs. 1966(From March 14 to March 17). In recent times, the stocks have grown by several times.
The couple is known for capitalizing on small organizations.
Investing Strategy Of Dolly Khanna
Whether it is business or investment, you always need a strategy. A plan helps you move forward. The strategies help the investor be focused and calm.
The journey from zero to hero becomes quite comfortable. Let's get motivated and influenced by Khanna's:
The Peter Lynch's Advice
Peter Lynch's advice is "Buyer should know, of what they are buying" The book " One Up On Wall Street" combined with "Beating the Street" teaches to invest into every day's used product.
So, when Dolly Khanna started using fem Bleach, she also started investing in it. Similarly, Rajeev Khanna used Nutrilite and started investing in it.
Because you approve of a product, it means it can seek approval from other people too. Thus, the company will do good and in return, your stocks will increase.
Buy And Hold- The Key Strategy
The Buy and Hold strategy works well and is advised by Warren buffet too. The buy and hold strategy yields multi-bagger gains.
Rajiv Khanna invested around 5-7 lakhs in Unitech and completely forgot about it. Later he realized that his investment turned into 25 crores.
If you keep checking your stocks regularly, you will be anxious and will sell the stock. So, it's better you invest it and takes hold. Stocks will grow compound slowly and steadily. 
Intuitive Process And A Positive Attribute Towards Your Stocks
It is more of a positive approach towards investment. The Khanna's invested in the Rain Industries until it fell. The analysis made was that the stock returned huge profits.
The market cap was increasing positively. With optimism and calculations, you must invest in the stock market.
Risk Awareness Of The Stock You Purchase
Usually, an investor while buying a stock does good research. But later forgets about it. The stock market requires repetitive revisions of the stock.
After buying you need to check timely how the stocks and the company are performing. The truth is no one knows the market. It is entirely the probability of additional rectifications that can't be prevented.
You cannot guarantee from any investors to have positive income. You don't always get a positive return. Losses are inevitable and you must utilize the stop-order investment for controlling long-term losses.
Dolly Khanna's Portfolio
| | | | |
| --- | --- | --- | --- |
| Stock Name* | Quantity Held* | Holding Percent* | Holding Value* |
| KCP Ltd. | 3,096,593 | 2.40% | 21.6 Cr |
| Rain Industries Ltd. | 5,623,178 | 1.67% | 65.4 Cr |
| NOCIL | 2,234,455 | 1.35% | 31.5 Cr |
| Heritage Foods Ltd. | 497,790 | 1.07% | 14.0 Cr |
* This can vary from time to time
What Made Dolly Khanna Successful?
Dolly Khanna has created a niche for herself in stock marketing. The Khanna couple is, in fact, one of the wealthiest couples in India, thanks to their sharp and smart investments.
Their in-depth technical and fundamental analysis of stocks and the market are major drivers for their stock purchases and selling decision-making. 
But like any other successful investor, even the Khanna went through tough times during the dot-com crash and the 2008 financial crisis.
Yet they did not give up on their investments and kept their hope in the market. From then, the market grew and they became millionaires. In fact, their investment decisions are highly looked upon in Dalal Street. 
The couple likes to focus on long-term investments. If the stocks reach the target amount, they consider for profits, they sell it.
Rajiv Khanna focuses a lot on public data, and he is not an ardent follower of conventional investment techniques. He is more open and unconventional in his investments. 
Beginner investors must adopt their resilient attitude and long-term trust in the market to become successful in the money they put in.
Dolly Khanna Blog
If you want to get the latest picks and suggestions of stocks, you can check out Dolly Khanna's blog – https://dolly-bestpicks.blogspot.com/
She has been providing valuable tips and ideas since 2015. You can search for previous posts too to understand how she views markets and her methods of analysis of various events that happened in the past.
Conclusion: Lessons That Can Be Learned From Khanna's Investments
The basic ideology behind their investments is common sense. They believe that the stock exchange is simple to understand and it works like everyday life.
What you can learn from life can be learned through a financial exchange. Values like patience, trust, honesty, etc. matter in some way or the other when you work at the stock market. 
It does not make sense to blame others when we encounter losses in the stock market. In fact, victories and losses are a part of the stock market and every investor goes through them repeatedly before becoming successful.
If you are a beginner investor, be ready for facing losses, some might even be silly. On the whole, study the market thoroughly and do not take a lot of opinion before investment. Trust your research and instinct. 
Never trust an unqualified individual because everyone has different opinions about the stock market. They may suggest you spend money on other investments that may not give good returns, or choose an inappropriate stock, thanks to their incomplete research.
The biggest takeaway from Dolly Khanna's investment journey is to take your own decisions and be accountable for them. 
Similar Posts: