Dillon Danis, a well-known Bellator MMA fighter, has been caught in a web of controversy over his involvement in the world of cryptocurrency.
The internet's top YouTube investigator, Coffeezilla, has exposed his past crypto promotions as scams, leading many to question the fighter's reputation.
In this article, we will delve into Dillon Danis cryptocurrency scam exposed by Coffeezilla and the consequences of his actions in the world of cryptocurrency.
The Scandal
Dillon Danis had been promoting NFT cryptocurrency, which was linked to a scam.
This sparked outrage on social media, particularly Twitter, as many accused Dillon Danis of being involved in the scam.
However, it was later revealed that Coffeezilla had tricked Dillon Danis into endorsing the fake NFT project.
In a now-deleted tweet, Coffeezilla linked users to a website showing Danis' past crypto promotions and their current value, exposing the fighter's involvement in the scams.
The Exposure Of Dillon Danis By Coffeezilla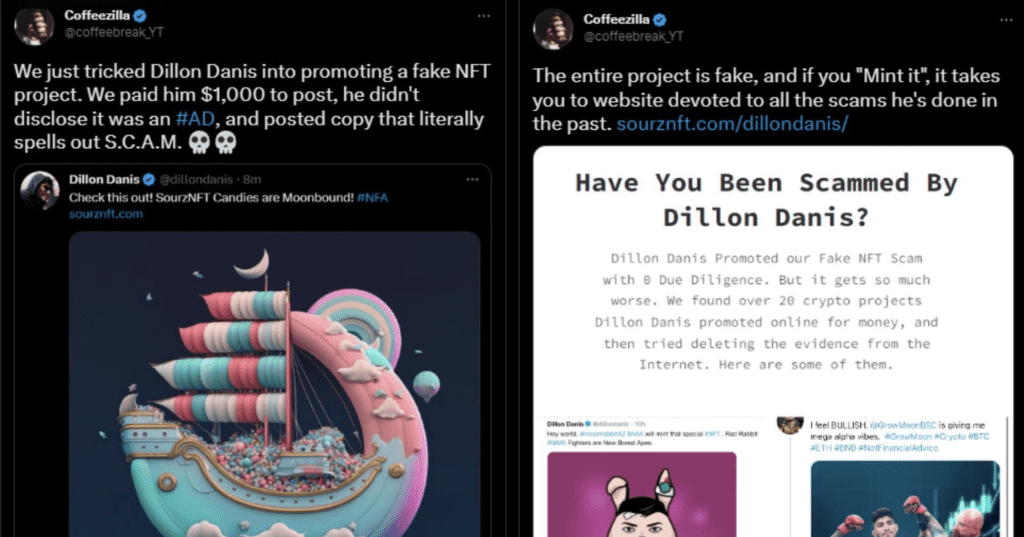 Coffeezilla is known for exposing cryptocurrency-based scams and has made a name for himself as the top YouTube investigator in this field.
Recently, he published a series of videos and Twitter threads discussing Logan Paul's CryptoZoo project, which led to Paul apologizing for his involvement.
It was only a matter of time before Coffeezilla turned his attention to Danis, and the world has now been made aware of the fighter's actions in the world of cryptocurrency.
Coffeezilla write a Twitter thread, "We just tricked Dillon Danis into promoting a fake NFT project."
"We paid him $1,000 to post, he didn't disclose it was an #AD, and posted copy that literally spells out S.C.A.M."
"The entire project is fake, and if you "Mint it", it takes you to website devoted to all the scams he's done in the past." https://sourznft.com/dillondanis/
Dillon Danis' Background
Dillon Danis was born on August 22, 1993, and is an American mixed martial fighter competing in Bellator MMA's Welterweight class.
He has two victories in mixed martial arts and is estimated to have a yearly income of $3 million.
Despite his success in the fighting world, Danis' reputation has been tarnished by his involvement in the crypto scams.
The Aftermath
The exposure of Danis' involvement in the crypto scams has caused a stir on social media and has left many questioning the fighter's integrity.
It has also sparked a larger conversation about the dangers of investing in cryptocurrency and the importance of thoroughly researching any investment before jumping in.
Similar Posts: