Made in India, WazirX is a cryptocurrency trading and exchange platform, founded in 2018 and is run by Siddharth Menon, Nischal Shetty, and Sameer Mhatre.
Apart from providing a variety of crypto coins to trade and buy, WazirX has its own token, the WazirX token that has been performing fairly well in recent times.
The purpose of this token was to reward users who use WazirX consistently for their crypto portfolio.
In 2019, WazirX was acquired by Binance, the largest crypto platform in the world, and that further improved its credibility.
One can access WazirX through its desktop platform or mobile application. For any reason, if you want to Close/ Delete/ Deactivate WazirX Account then you can do it in simple steps. follow the below-mentioned steps to close your WazirX account:
Steps to Close/ Delete/ Deactivate WazirX Account:
Step 1: Go to the WazirX Submit Request Page.
Step 2: Choose the issue from the drop-down – Account Management (Account locked, 2FA, mobile/email change).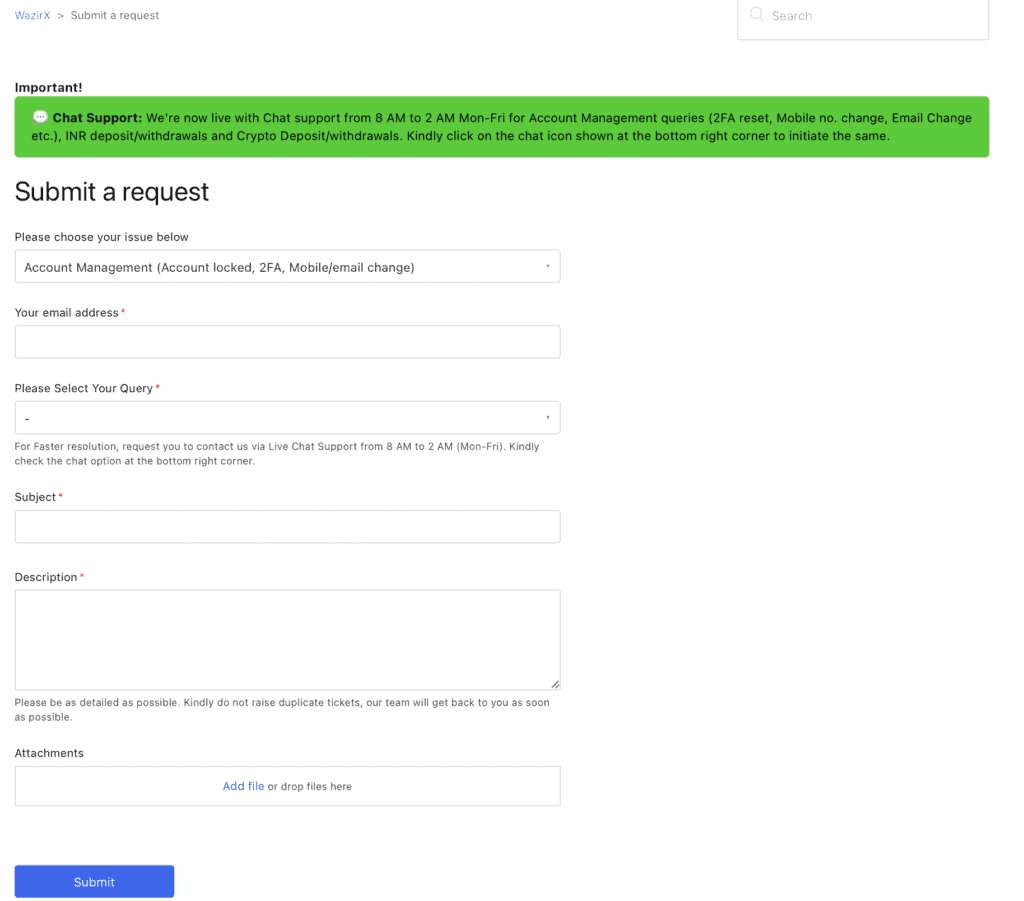 Step 3: Enter your Email Address in the marked field.
Step 4: Under the 'Please Select Your Query', choose the option – Deactivate Account Request.
Step 5: Write an Appropriate Subject Line in the marked field, it can be as simple as "Request to Delete / Deactivate WazirX Account ".
Step 6: In the Description field, request the team to deactivate your account.
Provide once again, the email address and the phone number, the account is linked.
Step 7: (Optional) You may attach and send the screenshot of your account if you wish to.
Step 8: Click on Submit.
Your query will be addressed by the concerned team, as soon as possible.
Tip: If you want a faster resolution of the issue, you can contact live with their chat support on Monday to Friday from 8 AM to 2 AM IST.
The menu has the chat icon on the bottom right through which you can initiate the conversation.
Disclaimer: Even after the closing of your account, the WazirX team may retain some of your personal information under appropriate legal laws for compliance purposes.
Also Read: How to Make Money with Bitcoin?
Things Keep In Mind Before Closing WazirX Account
If you think that you will not be trading or investing in cryptocurrency from now, it is recommended to close your account.
But note that closing the WazirX account is irreversible, that is, once it is closed, there is no way to retrieve it back.
Therefore, before closing, close all the open orders on your account and withdraw any funds if you may have in its wallet.
You can do this either from the WazirX desktop portal or the app.
Final Thoughts
As mentioned above, once you have it closed, your account cannot be reversed back.
So, think it through before taking this action.
Cryptocurrency is on the boom but it may or may not have been suiting you for your trading and investment needs.
If you are confused about trading in crypto, it is recommended to take up some classes or talk to seasoned traders.
Overall, think it through completely before proceeding to close your WazirX account through these simple steps.
Also Check:
Cryptocurrency Trading and Investing Tips
Common Cryptocurrency Scams & How to Prevent Them
Crypto Charts: Different Types & How to Read Crypto Charts?
Similar Posts: