Tower of Fantasy is the shared open-world MMORPG, anime-infused sci-fi adventure game. It is developed by Hotta Studio and published by Level Infinite.
Tower of Fantasy is available worldwide for PC and mobile devices(Android & iOS).
In the huge game Tower of Fantasy, players may find a ton of valuables all around the globe map. You will encounter closed places on the map as you go around and investigate them.
These locations have rewards hidden behind them. You will need to get the password and input the door code in order to unlock these closed rooms.
Tower of Fantasy contains a number of missions/quests that you must perform in order to get prizes.
It also includes side missions, tales, cutscenes, bosses, and other features.
You may earn in-game currency as a reward.
Tower of Fantasy Felton password is for the Tower of Fantasy Fireworks Prep Side Quest. When the game tells you to hunt for clues to interpret them, go to Loen Dock.
Tower of Fantasy Felton password is also known as communicator's password.
In this article, we will discuss about Tower of Fantasy Felton password.
Tower Of Fantasy Felton Password
Tower of Fantasy Felton password is 1234.
When you look on screen "Look for clue to decode", Go to near to Loen Dock and you will get Hyena Classified Document which contain Tower of Fantasy Felton password.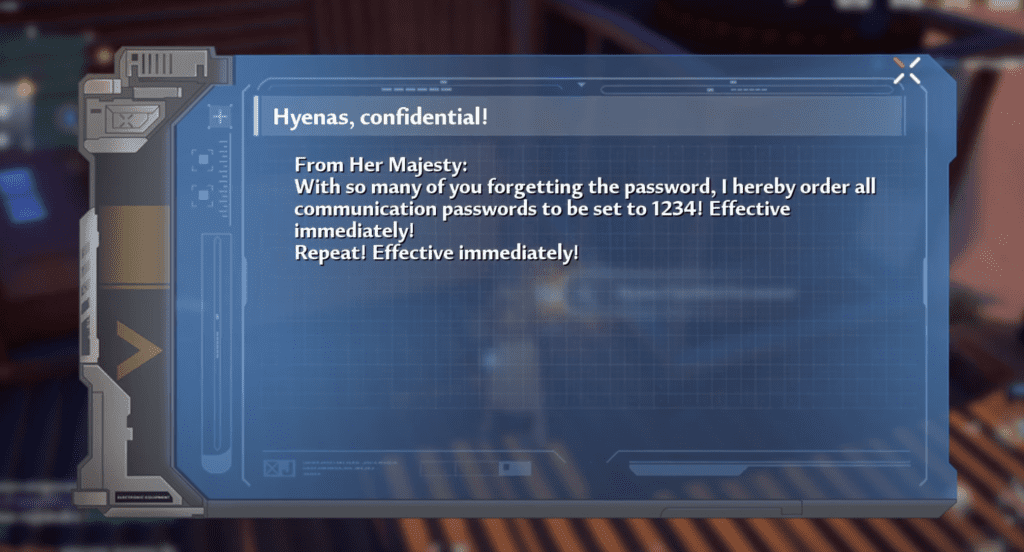 "From Her Majesty: With so many of you forgetting the password, I hereby order all communication passwords to be set to 1234!
Effective immediately!
Repeat! Effective immediately!".
Transmit to Spacerift: Banges Deck, speak to Felton and enter "1234" into the number pad.
After that go and talk to Felton in Banges Dock. 
After the conversation is over, a numberpad will appear on the screen.
"Well? Did you find any clues?
I… I think I know the communicator's password.
Wait, really!? I haven't been able to crack that password."
Also Read:
Similar Posts: