To be a billionaire requires effort and strategy instead of just some money to invest. It's not necessary to be able to live a wealthy life only if you are born into a rich family.
There are numerous examples of this statement worldwide and in India as well, among which Radhakishan Damani is a well-known name.
Radhakishan Damani is among one of the richest and most successful people in India. He is considered to be in the list of top ten richest people in India and at present being at the fifth position. He was ranked number 117 on the global list of billionaires.
Radhakishan Damani owns a retail store called DMart. There are over two hundred and thirty DMart stores all over India.
Radhakishan Damani – Biography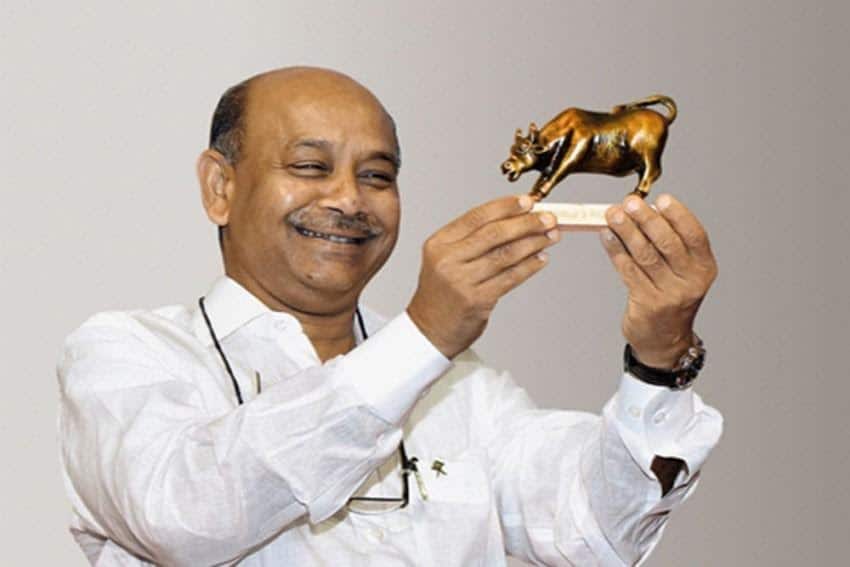 Source: outlookindia.com
| | |
| --- | --- |
| Full Name | Radhakishan S. Damani |
| Date of Birth | 1st January 1954 |
| Radhakishan Damani Net Worth | > $ 15.4 Billion |
| Age | 67 |
| Place of Birth | Bikaner, Rajasthan, India |
| Occupation | Businessman and Investor |
| Owns | DMart |
| Net Worth | $16.5 billion |
| Marital Status | Married |
| Children | 3 |
Radhakishan Damani – About
Radhakishan Damani (Date of Birth: 15 March 1954), now aged sixty-seven was born in a Marwari family. He spent his childhood and growing years in an apartment in Mumbai and had just the basic necessities of life with him.
The circumstances of his life changed after the death of his father. His father used to work in three Dalal Street, Mumbai.
He left college studying commerce after only a year of study. Damani used to live in a single-room property in Mumbai initially with not many facilities.
Radhakishan Damani began his career with a ball-bearing trading business which he soon left to enter the stock market.
He began his career by working for the stock market. He was a stockbroker there. He realized that if he had to make money from the market, he had to put in his own money.
This enabled him to start his journey to one of the top investors in India. Radhakishan Damani was believed to be the largest investor in HDFC bank after the bank supposedly went public in 1995.
Initially, in 1999, RK Damani managed a franchise of Apna Bazaar but he didn't have much interest in it as he believed its business structure to be inconvenient.
Radhakishan Damani made huge profits with the stock market but he eventually quit it to start his hypermarket chain known as "DMart".
The first DMart store was set up in Powai, Mumbai in 2002. The chain of supermarkets had 25 stores by 2010. Soon the company started to grow pretty rapidly and went fully public in 2017.
D-Mart is among the top 20 companies in the country when arranged for value. Today, DMart is popular in the states like Maharashtra, Karnataka, Andhra Pradesh, Telangana, Madhya Pradesh, Gujarat, Tamil Nadu, Punjab, Rajasthan, Chhattisgarh, etc.
The supermarkets and hypermarket chains have more than 200 locations across India. RK Damani made huge profits from stock trading.
He believed in making profits by the use of different market swings and strategies. The secret of his success was that he was a very flexible trader.
Radhakishan Damani although a billionaire lives a very simple life, he rarely gives interviews and he tends to avoid public gatherings and media coverage. He also does not consider himself a very educated person.
It is believed that RK Damani has also taught his stock trading tricks and techniques to Rakesh Jhunjhunwala who is a successful investor of the present time who is also known as Warren Buffett of India.
Radhakishan Damani Net Worth
The net worth of Radhakishan Damani at present would be about $15.4 Billion , this makes him one of the richest men in the country.
How has the net worth of Radhakishan Damani grown over the years?
A statistical approach of his net worth reveals a great rise in the following way:
March 2017 – $2.3 B
March 2018 – $10.0 B
March 2019 – $11.1 B
April 2020 – $13.8 B
Radhakishan Damani Portfolio
One of the biggest achievements of Radhakishan Damani was to establish his retail store called DMart.
DMart is a kind of supermarket and can also be considered as a hypermarket chain whose stores are found all around India.
The headquarters of the company is situated in Mumbai. DMart has the quality of providing a huge and wide range of basic products.
The DMart supermarket stores have stocks filled with utility products ranging from beauty products, games, toys, stationery, food, toiletries, garments, kitchenware, footwear, home appliances, and much more.
DMart store supermarket and hypermarket chain is owned and operated by Avenue Supermarts Limited (ASL).
Several other brands have been founded by Radhakishan Damani which include DMart Premia, Dutch Harbour, D Homes, and others which are owned by Avenue Supermarts Limited (ASL).
As of the information generated in 2020, the revenue generated from DMart can be rounded off to around 24,930 crores INR which is about US$3.5 billion.
DMart was founded to provide the best products at the best prices for people. D-Mart is so popular because the majority of its products are available at an economical price. 
This is the main reason for the success of the company, as with the lower prices and better quality more people were attracted to DMart. 
It is known that Radhakishan Damani has more than twenty shares in his portfolio which are of around Rs. 125,923 crore.
Some of the shares held by Radhakishan Damani that add up to his portfolio are:
| | | |
| --- | --- | --- |
| Stock/Company* | Holding Value* | Holding Percentage* |
| Avenue Supermarts Ltd. | 140,646.5 Cr | 65.20% |
| India Cements Ltd. | 755.9 Cr | 12.70% |
| VST Industries Ltd. | 1,642.7 Cr | 30.20% |
| Trent Ltd. | 471.6 Cr | 1.50% |
| United Breweries Ltd. | 460.4 Cr | 1.20% |
| Sundaram Finance Ltd. | 20.7 Cr | – |
| 3M India Ltd. | 407.7 Cr | 1.50% |
| Blue Dart Express Ltd. | 231.6 Cr | 1.70% |
| Metropolis Healthcare Ltd. | 230.2 Cr | 1.60% |
| BF Utilities Ltd. | 25.6 Cr | 1.30% |
| Sundaram Finance Holdings Ltd. | 20.7 Cr | – |
| Astra Microwave Products Ltd. | 15.7 Cr | 1.00% |
| Mangalam Organics Ltd. | 14.7 Cr | 2.20% |
| Andhra Paper Ltd. | 12.7 Cr | 1.30% |
* This can vary time to time accordingly
Similar Posts: