CurseForge, a well-known platform in the gaming community, has gained immense popularity as a hub for downloading and sharing mods for various video games.
As with any online platform, concerns about safety and security naturally arise.
In this article, we will explore the safety of CurseForge and discuss the measures it takes to ensure a secure and reliable user experience.
Is Curseforge Safe?
CurseForge is a trusted platform for gamers to enhance their gaming with mods.
They work closely with game developers to ensure the mods meet their standards.
A team of moderators carefully checks all uploaded content to keep the platform safe and secure.
Users can report any concerning content, and the platform takes quick action to address any issues.
Before mods are available for download, they undergo thorough virus and malware scans to prioritize user safety.
Additionally, the user review and rating system allows gamers to share their experiences and guide others in making informed choices.
However, the thing to note is that in June 2023, CurseForge encountered a situation where a malicious user introduced malware projects to the platform.
The CurseForge team responded swiftly by investigating the issue, banning the associated accounts, and removing the infected files.
They also provided guidance to users on how to upgrade their mods and delete any infected files, while introducing helpful tools to identify and remove malware.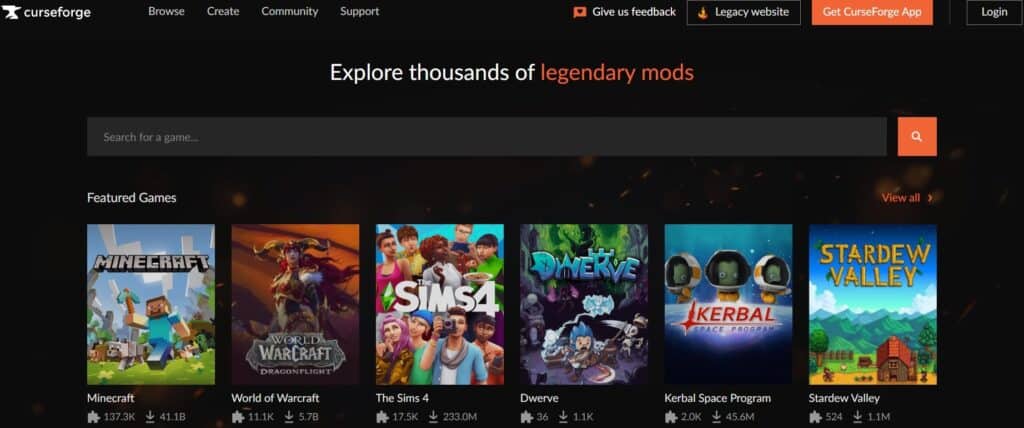 With these proactive actions, CurseForge has taken significant steps to ensure user safety.
Download mods only from the official CurseForge website to ensure maximum safety.
This helps keep users safe by reducing the chances of downloading harmful or unauthorized content from unreliable sources.
What Does Curseforge Offer?
CurseForge is a versatile platform that caters to modding and gaming enthusiasts.
It has a big collection of mods and resources for various games, making it easy for users to find, download, and install mods.
The platform encourages a lively community where modders and gamers can share their creations, give feedback, and support each other.

It also provides a reward system for mod authors, allowing them to earn points that can be converted into real money or gift cards.
Users have the option to subscribe to and donate to their favourite authors.
CurseForge offers a mod development toolkit with APIs, SDKs, and documentation, empowering users to create and publish their own mods.
Additionally, it provides a convenient mod management tool with features like mod packs, profiles, and backups, making it easier for users to organize and update their mods.
Similar Posts: