Are you experiencing issues with loading persistence data on Battlefield 2042? If so, you're not alone.
The full error message says-"ERROR, Unable to load persistence data. Game will return to start menu. Please check your internet connection, make sure the platform client is online and try again. Please see ea.com/unable-to-connect for more information. Error code: 15:14 1003S:-7A".
Many players have reported encountering the "Unable to load persistence data" error message, which prevents them from accessing their game progress and stats.
This can be frustrating, especially if you've invested a lot of time and effort into the game. The root cause of this issue is not entirely clear, but it seems to be related to crossplay between PC and Xbox.
If you're experiencing this issue, there are several troubleshooting steps you can take to try and fix it. In this article, we'll explore some of the most common solutions to the "Unable to load persistence data" error on Battlefield 2042.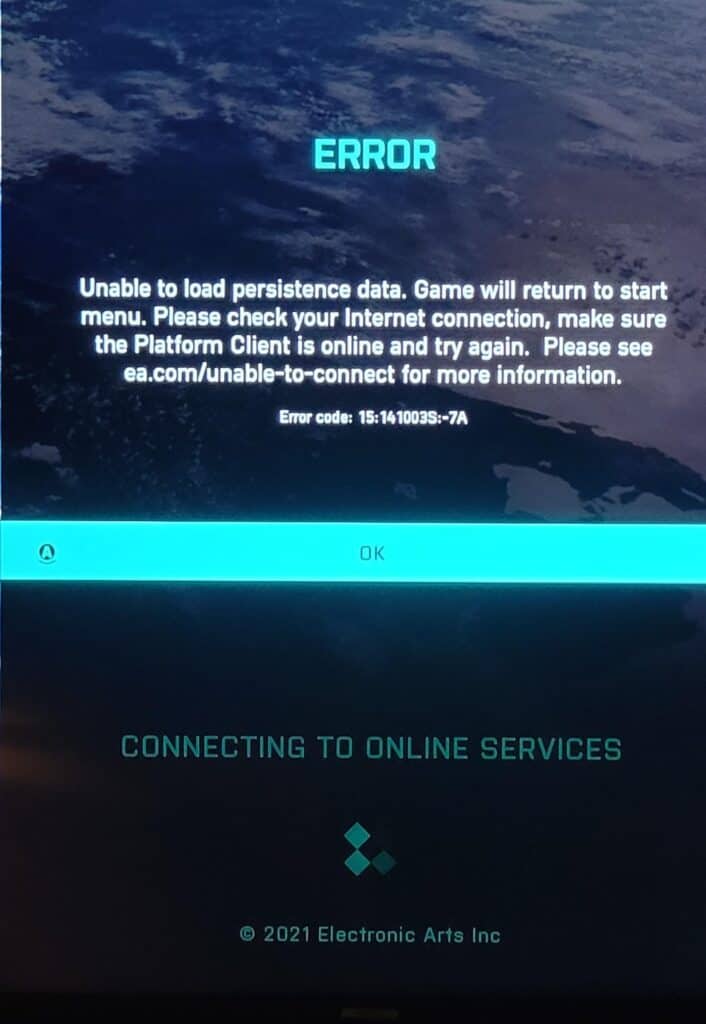 How To Fix Unable To Load Persistence Data On Battlefield 2042?
Here are some solutions that you can try:
1. Disable Crossplay
You can try disabling crossplay. This has worked for some players who encountered the same issue.
Generally to disable crossplay, go to the game's settings and find the crossplay option. Disable it and then relaunch the game to see if the issue has been resolved.
If you are playing Battlefield 2042 on an Xbox, you need to go to Settings > General > Online Safety & Family > Privacy and Online Safety > Xbox privacy > View Details and Customize > Communication and Multiplayer > Select Block under You can join cross-network play.
2. Restore License
Restoring licenses can be a helpful step if you are experiencing the above issue.
On PS5 console, Go to Settings > Users and Accounts > Other > Restore Licenses. Select Restore.
On PS4 console, Go to Settings > Account Management > Restore Licenses. Select Restore.
3. Change Your NAT Type On PS5
To change your NAT type on PS5, you'll first need to verify the NAT type you've currently got.
Once you're armed with that information, you can then decide whether you need to open ports on your router to improve your online gaming experience.
4. Restart Battlefield 2042
The first solution that you can try to fix the "unable to load persistence data" bug in Battlefield 2042 is to restart the game.
Simply close the Battlefield 2042 application and then wait for it to completely turn off. Then, launch the game again and see if the issue has been resolved.
5. Check For Corrupted Game Files
If restarting the game did not work, then you should check for corrupted game files. Go to the game's installation folder and look for the "Verify integrity of game files" option.
This will check for any corrupted files and repair them automatically.
6. Check Your Internet Connection
If the issue persists, then it could be due to a poor internet connection. Check your internet connection and make sure that it's stable and fast enough to run the game.
If you're using a wireless connection, try switching to a wired connection to see if that resolves the issue. You can check the network speed by clicking here.
7. Change Your DNS Settings
Another potential fix for the "unable to load persistence data" bug in Battlefield 2042 is to change your DNS settings. You can do this by going to your network settings and changing the DNS server to a different one.
This could help improve your internet connection and resolve the issue.
8. Verify You Signed Into Your PSN Account
You must make sure that you are signed into your PSN account. Accounts usually remain signed in. If not, then
Enter your account password and sign-in ID (email address).
Enter the verification code from your authenticator app or the SMS that was sent to your registered mobile phone number.
The verification code is valid for 10 minutes after your sign-in attempt. If your code has expired, select Resend Code from the sign-in screen to receive a new code.
By following these troubleshooting steps, you should be able to fix the "unable to load persistence data" bug in Battlefield 2042. If the issue persists, you may want to contact the game's support team for further assistance by clicking here.
Similar Posts: