Are you getting Error code 2 in Standoff 2 Game and don't know what to do?
Then you have come to the correct place.
AXLEBOLT, an independent Russian firm, created the Standoff 2 game.
Standoff 2 is an intriguing first-person shooter with captivating game types and stunning graphics.
This is an action game in which terrorists and special forces fight for their lives.
Despite the excellent action feature, Users are banned from the game without any reason and getting the following error message.
"Your account is Banned." Under saying "Reason: Cheating, ban code: 1002" with an Id number.
You are banned since you have knowingly or unknowingly violated the terms and Policy of the Standoff 2 Game.
The article is about Why Standoff 2 Error Code 2 occurs, what you can do if your account is banned, and how to avoid it.
Why Does Standoff 2 Error Code 2 Occur?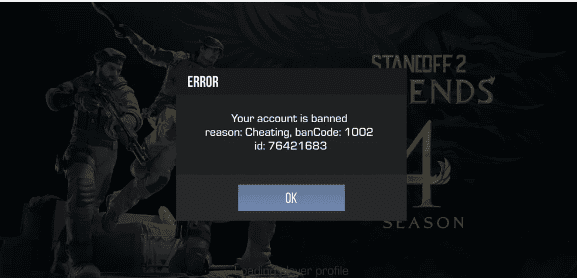 Standoff 2 Error Code 2 means you have violated the terms and Policy of the game, and your account has been banned from playing the game further.
Other reasons include
You might have used the VPN connections
You might have changed the IP when the Standoff 2 Game is ON
Or you might have purchased any item illegally
You might have used an emulator or had something like a gamepad extension
Can I Get Back My Standoff 2 Banned Account?
No.
You cannot get back access to your Banner Standoff 2 account.
The Bot is banning the account without any reason for many users.
Many Reddit users say that there is no response from Standoff Customer Support.
If they reach out to the Discord Official team, they are getting blocked from the Discord team without any response.
You need to be aware of the terms and conditions to avoid this ban in the future.
How To Fix Standoff 2 Error Code 2?
Though the is no proven solution to get back your banned account, you can try installing the APK File.
Once your account is banned, you cannot get it back even if you reinstall it from the Play Store.
If you want to play the game,
Download and install the latest APK file on another device.
Try to log into it and see if the error is fixed.
Since the error occurs in thousands of accounts, there is a higher chance that it is a bug and can be fixed in the latest version.
If the error persists in the downloaded APK file as well, no other way to go.
You need to create a new account.
Remember that you should not use VPN connections, Changing IP, or any extension while playing the game.
Similar Posts: