Are you having issues while playing in FiveM?
If you are seeing the error, "[ citizen-server-impl] Server list query returned an error", there is no need to worry because we are here to help you!
Many players have reported that they have seen the error message when checking their server console after starting the server.
FiveM is a modification of GTA V where you can play the game in multiplayer on customized servers.
You can also create your own server in FiveM and play with your friends.
In this extensive guide, we will be going through the reasons why you keep seeing the server list query error in FiveM and what you can do to fix it.
What Causes "Server List Query Returned An Error" On FiveM?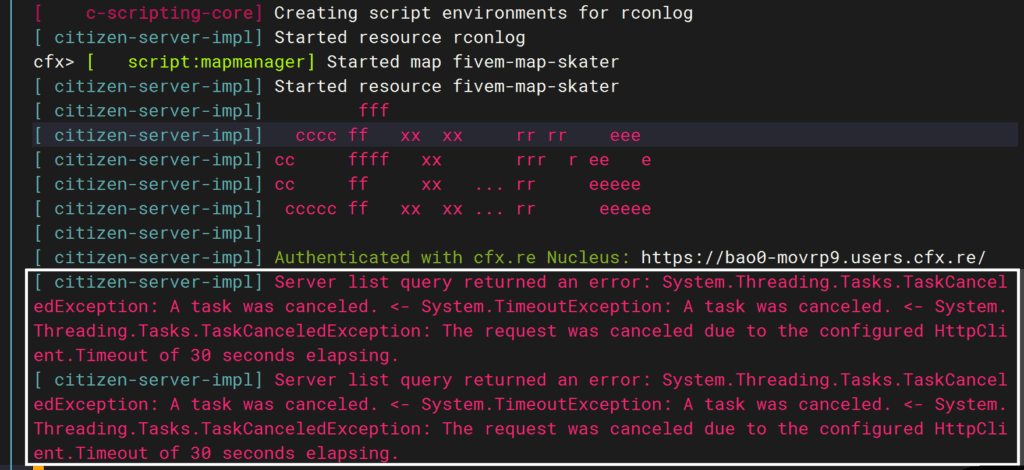 The error "Server list query returned an error" happens due to the server not getting listed correctly.
This means either the server is not set up right or the port is having an issue due to which the server is not able to connect properly with FiveM.
Another reason could be that the firewall is blocking the ports that are used by CFX to list you on the server list.
CFX is unable to get a proper response from your server due to which this error happens.
Whatever the reason is you will be able to solve it by following our fixes section below.
How To Fix "Server List Query Returned An Error" On FiveM
Now that we understand what could be the reason, we will be looking at the fixes that will help you to fix the issue of the FiveM Server list query returning an error issue while playing FiveM in your system.
1. Disable Your Firewall
Firewalls occasionally prevent a programme from submitting requests because they believe it to be malware.
If the server list query problem appears in your FiveM, that can be the reason.
In such a case, you can turn off the firewall on your computer, which ought to resolve the problem.
Go to Control Panel from the Windows search bar.
Open Systems and Security.
Select Windows Defender Firewall.
Turn on the Windows Defender Firewall option.
Click on the Turn off Windows Defender Firewall (not recommended) button under the Private network settings and Public network settings.
Click on OK and close the window.
2. Change Your IP Configuration
You should also configure your IP correctly by changing it as shown below when you are having the server list query error.
Incorrect IP Configuration can also cause the server list error in FiveM.
Write the Command prompt in your Windows search bar and press Enter.
Type "ipconfig/flushdns" and press Enter.
Now type "netsh winsock reset" and press Enter.
Type "exit" and press Enter.
Open Control Panel and go to Network and Internet.
Click on Network Sharing Center.
Navigate to Change adapter settings.
Right-click on Ethernet and select Properties.
Select Internet Protocol Version 4(TCP/IPv4) and click on Properties.
Choose Use the following DNS server addresses and put the values "1.1.1.1." and "1.0.0.1." and click on OK.
Now exit the tabs and restart the system.
3. Update To txAdmin From FXserver
You can also update to txAdmin from a normal FXserver and check whether that solves the issue as some of the players have suggested that this had helped them in solving the server list query error in their FiveM.
4. Configure Your Server
If you aren't aware that CFX had changed the server listings then you might not have configured your server correctly due to which this error is showing up at times.
CFX have changed the listing by adding three options.
sv_hostname " "
sv_projectName " "
sv_projectDesc " "
You need to make sure that you fill these options out correctly and save the settings.
You will also have to set your ports right by setting, 30120 for the server and 40120 for TXAdmin.
After you are done, start FiveM and check whether you are still getting the FiveM Server list query error.
5. Update FiveM Client
For the next fix, you should update your FiveM client as there could be an update that you have missed due to which you might be having this issue while running FiveM in your system.
In that case, you can just update the client to the latest version available and you will be able to solve the issue of server list query in your FiveM.
You can update the client by going to FiveM's official website.
6. Contact FiveM Support Team
Now that you have tried all the fixes you should be able to solve the issue in FiveM.
However, if you are still unable to do so there is no need to panic because there is a last option that you can try.
We recommend that you contact the FiveM Support Team and communicate your issue to them.
They will be able to help you out.
Similar Posts: