Is Grounded Xbox Live Login Not Working for you?
Maybe you keep seeing the error message, "Xbox Live Account Required, You must Login to an Xbox Live account to play Grounded Online."
If this is what keeps you up at night then no need to worry as we are here to help!
This error message is only showing up when the players are trying to access Grounded online.
Grounded is a very popular action, adventure video game which was released in 2022 and has captured the hearts of millions of players within this short time.
Though similar to other games it can also have issues and errors that can make you have a bad experience.
In our extensive guide, you will get to know exactly why this issue is happening and what you can do to fix it.
Why Is Grounded Xbox Live Login Not Working?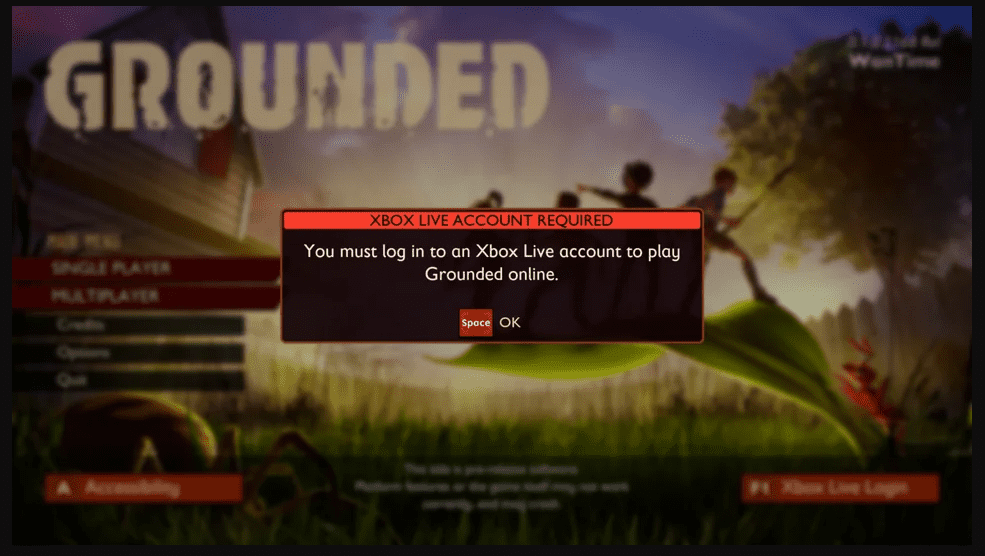 Many players have reported the issue recently where they were not able to play Grounded online as it kept showing that they were not logged in through Xbox Live.
The main reason for this would be that there is a technical bug in the system of Grounded which is causing this issue.
Many players who have contacted the Support Team of Grounded have reported that the developers are aware of this issue and they are working on releasing a patch which will solve this error in Groynded.
In the meantime let's check out some fixes that will help you to play Grounded by using a workaround method around this issue.
How To Fix Grounded Xbox Live Login Not Working?
In this section, we will be taking a thorough look at the fixes that can help you to fix the issue of Xbox Live Login not working got Grounded.
1. Log In Through Beta Participation
This solution is a potential workaround where you will have to join the Beta participation of Grounded first from Steam.
Open Steam, and join the beta participation for Grounded from there.
Now, open Grounded, and sign in to your Xbox Live. And that's it!
You should remain logged in to Grounded from Xbox Live without any issues.
2. Chcek For A Patch
There could be a technical issue in the system of Grounded due to which you might be seeing the issue where you can not log in to it.
In that case, the technical team is probably aware of it and trying to work on a patch.
Wait for some time and a patch should be available which will solve the issue of being unable to log in to Grounded through Xbox Live when trying to play online.
3. Sign In To Your Xbox App
Many players have reported that signing in to the Xbox account before they try to log in to Grounded has helped them in solving this error of Xbox Live Login.
You can also try to do that and check whether that solves the issue of being unable to play online in Grounded.
4. Uninstall And Reinstall The Grounded
As an alternative fix, you can also try to uninstall Grounded from your device and then try to log in again after some time.
Make sure to restart your device before installing Grounded again.
If there is any glitch due to which this issue is happening then doing an uninstall and reinstall will solve that issue.
5. Contact Grounded Support Team
After you have tried the fixes above you should be able to solve the issue of Xbox Live Login for your Grounded account.
However, if you still see the error message then please contact the Grounded Support Team and they will be able to help you out.
You can also ask them about the patch or the update that could fix this issue.
Similar Posts: