Are you seeing the error "Connection failed, Obtaining confirmation from. Error state: failed to connect to (Server IP). Port number. Timed out-CURL Error code 28m(Timeout was reached)" when you are trying to open FiveM servers?
If that is the case then we are here to help!
FiveM is a great mod to [play GTA V in multiplayer settings but similar to other games it can also have errors and issues.
In this article, we will be looking at the reasons why you are seeing the CURL Error code 28 and the fixes that you can try to fix the error.
What Causes FiveM CURL Error Code 28?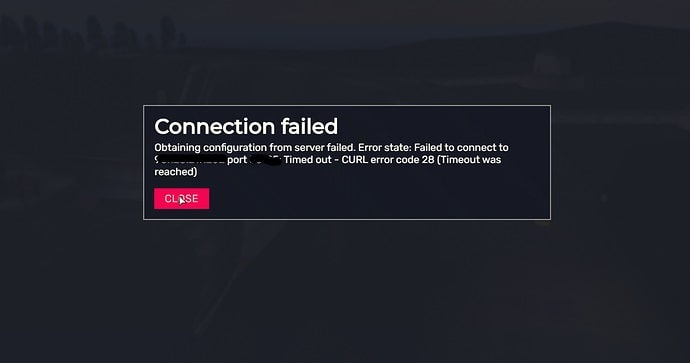 If you are seeing the CURL Error code 28 in your FiveM then that means there is some kind of problem with your network connection.
FiveM has not yet officially disclosed why this error occurs however players have suggested that the CURL Error code happens due to the network having issues connecting to the servers of FiveM.
It could be that you have a VPN in your system or your firewall and antivirus are stopping the connection from happening.
There could also be some kind of issue with the IP address of your network that is preventing FiveM from connecting to the servers.
How To Fix FiveM CURL Error Code 28?
In this section, we will be discussing the fixes for FiveM CURL Error Code 28.
1. Disable Your VPN
The first fix that you can try is to disable the VPN from your system.
The CURL error code 28 can happen due to your system having a VPN that is stopping FiveM from connecting to the servers.
As soon as you disable the VPN, you should not have any issues while trying to connect to FiveM servers.
2. Disable Firewall
Firewalls at times stop a program from sending requests because they think it to be malware.
That could be the case if you are seeing the CURL error 28 in your FiveM.
In that case, you can disable the firewall in your system and that should be able to solve the issue.
Go to Control Panel from the Windows search bar.
Open Systems and Security.
Select Windows Defender Firewall.
Turn on the Windows Defender Firewall option.
Click on the Turn off Windows Defender Firewall (not recommended) button under the Private network settings and Public network settings.
Click on OK and close the window.
3. Disable Antivirus
You should also disable your antivirus because your antivirus could be the reason why FiveM is unable to connect to the servers.
Antivirus can at times think of the service requests to be spam due to which your FiveM could be having the CURL error 28 in your system.
You can disable the antivirus and then open FiveM.
You can also uninstall antivirus from your system and then open FiveM on your computer.
4. Contact The Service Provider
You can also contact your internet service provider and ask them about the issue as many players have reported that changing their IP address had resulted in being able to connect to the servers of FiveM.
You can contact the service provider and talk to them about the issue and they will be able to guide you.
5. Uninstall And Reinstall FiveM
As an alternative method, you can also uninstall and reinstall FiveM in your system.
If the server issue is occurring due to a bug or a glitch in the FiveM then doing this would help to solve the issue.
Go to Control Panel.
Then select Programs.
Choose Uninstall a program.
Now, select FiveM and click on Uninstall at the upper tab.
Confirm the uninstallation and wait till FiveM gets uninstalled.
You can then download FiveM again from the official site and install it in your system.
Similar Posts: