Are you having the error where Far Cry 6 is showing "Connecting" but isn't actually connecting to its servers?
Maybe you are stuck on the homepage and can not start the game as it keeps on showing connecting.
If that is the error that you have faced then you are not the only one as there are many players who have also faced the same error as you.
We understand how frustrating it can be and how it can actually ruin your day.
In this article, you will get to learn why Far Cry 6 is showing a connection error in your system and what you can do to fix it.
What Causes Far Cry 6 Connection Error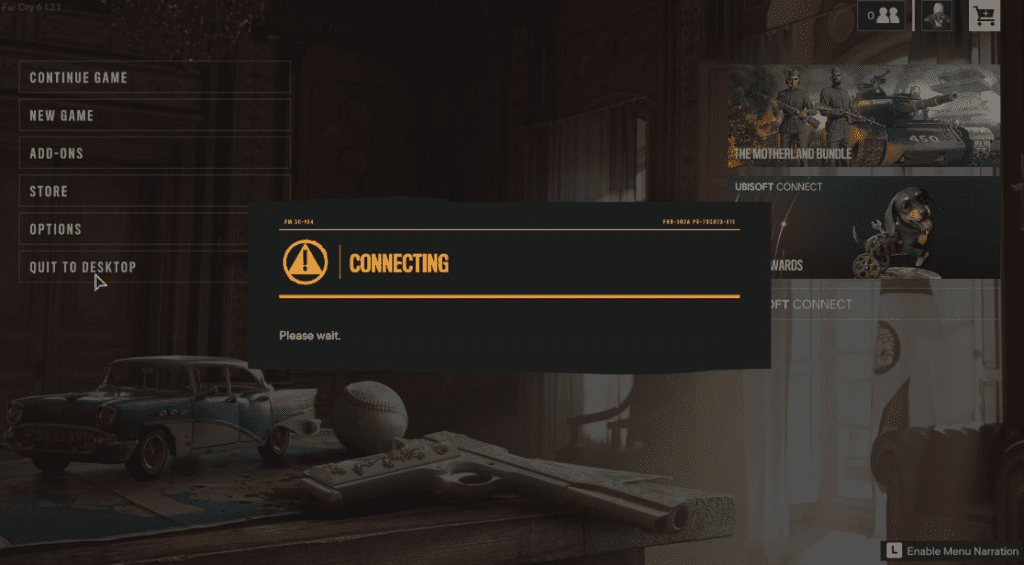 We have yet to have any concrete information regarding why Far Cry 6 is having any connection issues in your system, however, it is thought to be a server issue that is happening in the Far Cry 6 system.
This issue can also arise if you have a faulty connection due to which your Far Cry 6 could be having a connection error.
Though there is no concrete reason why this connection issue is having you can try some fixes that will help you to solve the issue.
How To Fix Far Cry 6 Connection Error
In this section, you will get to learn some steps and solutions that you can try to fix the connecting issue happening in Far Cry 6 on your system.
1. Don't Launch Far Cry 6 From Desktop Shortcut
The first thing that you should check is that you are not launching Far Cry 6 from the desktop shortcut.
You can launch Far Cry 6 by going to the game launcher from where you have purchased the game.
2. Don't Appear "Invisible" On The Ubisoft Connect Launcher
You should also make sure that you are not appearing as "Invisible" on your Ubisoft connection launcher.
Ubisoft personnel have asked the players to check this when their Far Cry 6 is having issues connecting to the servers.
3. Connect With A Wired Connection
The next thing that you should check is that you are having a wired connection.
Also, make sure that your wifi is stable and the connection is fast.
You can check the connection by interchanging your wifi and cellular data.
If you find any issue then please contact the local service provider to fix the issue.
4. Power Cycle Your Router
You should also reset your router and do a power cycle to make sure that there is no issue that is happening due to your router.
To do a power cycle of your router you can switch it off and then unplug all the connecting wires.
After this, you can again plug all the wires and switch on the router.
Make sure that you wait for some time before switching it on.
Now open Far Cry 6 and try to connect to the server. You should not be having the error of connection anymore while playing it.
5. Check The Far Cry 6 Server
Make sure to check the Far Cry 6 server also as if it is undergoing some kind of outage then you will not be able to connect to it.
If that is the case then you might be seeing the connection error when you try to open Far Cry 6.
You will have to wait till the server is back online again to play Far Cry 6.
6. Uninstall And Reinstall Far Cry 6
You can also uninstall Far Cry 6 from your system and then try to reinstall it again after some time has passed.
If there is any bug in the system due to which you are having such an issue then doing this would make the issue resolve itself.
7. Contact The Far Cry Support Team
After you have tried all these fixes and yet you aren't able to fix the connection error for your Far Cry 6 then you have to contact the Far Cry support team.
They will be able to help you out when you describe your connection issue to them.
Similar Posts: