Are you trying to register for a FiveM account but keep getting the error message "Failed to register account. Please try again later"?
Don't worry, you're not alone.
This error is a common issue faced by many FiveM users and can be frustrating when you are trying to join a server.
But don't worry, there are a few simple fixes that can help you resolve this issue and get back to playing on your favorite FiveM server.
In this blog, I will explain different causes of this error and the steps you can take to fix it.
Why Did "Failed To Register Account Please Try Again Later" Error Occurred On FiveM?
FiveM is one of the most popular mods for GTA V that allows you to play a customized multiplayer version of GTA V.
You may be interested in making an account in it but whenever you are trying to do that it is showing the error "failed to register account please try again later".
If you are seeing it then there is no need to panic as there might be several reasons behind this as we have listed below.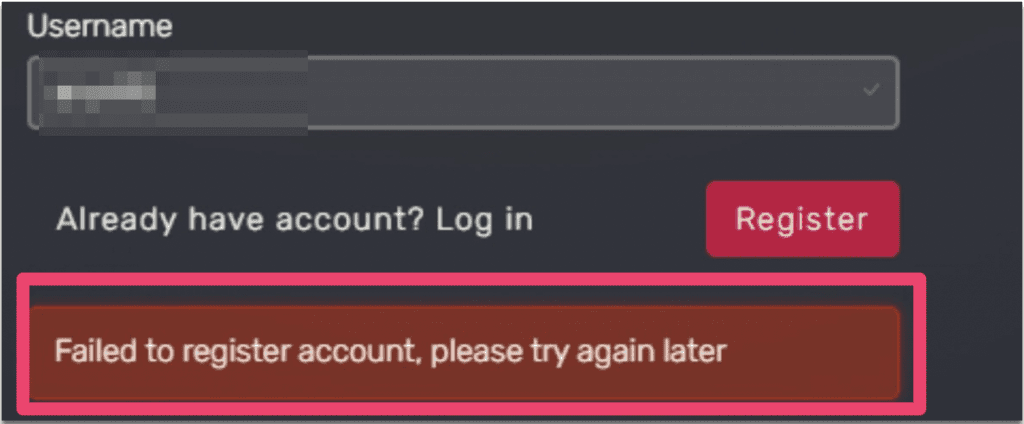 1. FiveM Is Having Problems Executing Its Functions
Sometimes the fault lies completely with the programme itself and in that case you can not do anything but uninstall it.
FiveM may have glitches and bugs due to which it is showing errors when you are trying to create an account.
2. Your Antivirus Is Preventing It Causing The Error
Antivirus is there to protect our computers from harm such as trojan horses and viruses.
However antivirus also finds mod softwares to be harmful and can prevent your FiveM from working.
3. You Have Not Deleted Cache Folders Of FiveM
Before you panic you can delete the cache folders from the folders of FiveM in your computer.
The cache folders stored in FiveM might be preventing you from creating an account in FiveM.
You can follow the solution portion of ourguide to see the steps required to delete the Cache folders.
4. You Have Your VPN Switched On
VPN works by hiding our location from the internet.
It provides a false location for our system and that location will be given to the system when you try to join while still using a VPN.
The system might take it as false information and not allow you to register an account.
How To Fix "Failed To Register Account Please Try Again Later" On FiveM?
If you have identified the problems then that's good!
Now, we will be discussing the solutions that can help you in overcoming such problems.
To make your FiveM up and running, just go through the simple solutions and you will be able to play it in no time.
1. Delete Cache Folder In FiveM
As the first solution you can try to close the FiveM app and then delete the Cache folder from the app and then try to register your account.
To know how to do so you can simply follow the steps below.
Step 1: First, Force close the FiveM app by going to Task manager and closing it.
Step 2: Now, Press Windows button and R together to open the box where you will put the command, "%localappdata%" and press OK.
Step 3: From the folder that has opened select FiveM and open it.
Step 4: Now, go to FiveM application data from the folder that has opened.
Step 5: Click on the data folder.
Step 6: Now, go to the Cache file from there.
Step 7: Delete all the Cache folders such as "server Cache" and "server cache priv" from there.
Step 8: Next, go to the storage folder and delete the Cache folders in there too.
Step 9: Make sure you have deleted the file called "LOG.old" from the storage folder.
Step 10: Close all the windows after you are done and restart your PC.
Step 11: Now. open your PC again, refresh it once and try to register your account in FiveM.
Congrats! You have done it!
You have finally cleared all the cache folders in your FiveM application.
Now,you should be able to register your account without getting any errors.
However if you are still getting errors then go through the other solutions mentioned in this guide.
2. Make Sure That The FiveM Server Has No Issues
You should also check whether the server is having any issue before trying to register your account.
If the server is up and working properly then deleting the cache files should solve the problem.
However if your server that you want to join is not working properly you will not be able to run FiveM as you want.
A server can have many issues for example it can be temporarily down or it could have been shut down.
In such a case it will be better if you check it through other sources before registering your account with FiveM.
3. Turn Off Your VPN
If you have your VPN open then also you will not be able to register your account to FiveM.
You will have to turn your VPN off and then open the FiveM app to be able to register the account without getting an error message.
Using VPNs are considered to be security issues by many servers and apps so it is best that you do not use VPN while using FiveM.
4. Turn Off The Anti Virus And Open FiveM
You can turn off the antivirus that you have been using and then reinstall FiveM.
Sometimes antivirus will prevent the app from working properly if they think it is a threat to your system.
However if you disable your antivirus then the FiveM will not have any problem running properly.
Fix 5: Contact The FiveM Support Team
You can contact the FiveM Support Team if your account can not be registered even after going through all these solutions above.
You can go through the information given there and contact them through their forum or discord and they will help you in fixing the problem.
Similar Posts: