Are you getting the error message, "Far Cry 5 service is not available.
Please try again later.
Error Redhorn-4800002" whenever you are trying to open Far Cry in your system?
If that is the case then you are not the only one as players from different parts of the globe are getting this exact same message when they are trying to play Far Cry 5.
It has been reported by the players that this issue is happening for quite some time now.
While Far Cry is a great game to play with your friends it can have errors and glitches that can take away that thrilling experience of playing it.
In this article, we will be going thoroughly over the error Redhorn-4800002, why it occurs and what you can do to fix it.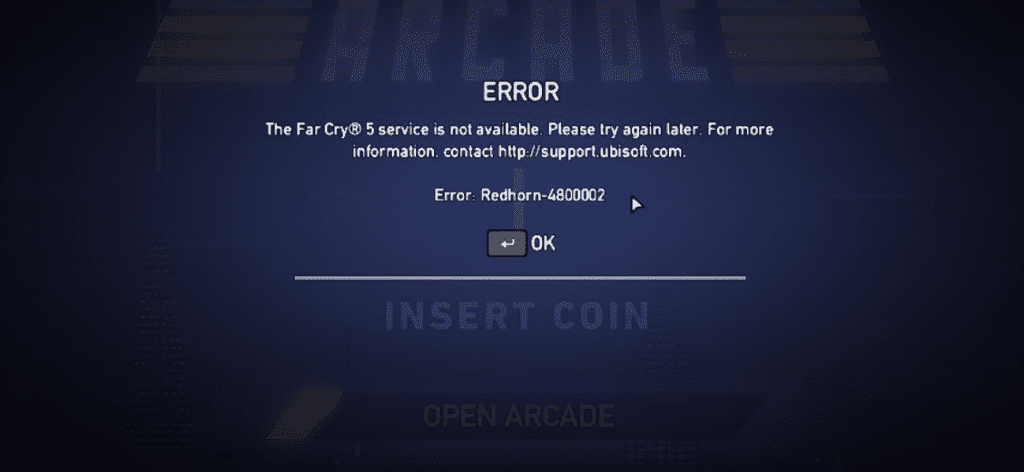 What Causes Error Redhorn-4800002 In Far Cry 5
As of now, there is no exact information regarding why the error Redhorn-4800002 occurs in Far Cry 5.
However, the players thought this error occurred due to a server issue in the system of Far Cry 5.
Though many others have also suggested that this error Redhorn-4800002 could actually be happening due to a bug in the system of Far Cry 5 and not an issue with its server.
This error Redhorn-4800002 is occurring for both the Multiplayer as well as the Arcade mode as reported by the players.
But whatever it is there are a few fixes that you can try from your end to solve the issue.

How To Fix "Error Redhorn-4800002" On Far Cry 5
In this section, we will be going over the fixes that you can use to solve the error Redhorn-4800002 in your Far Cry 5.
1. Use A VPN With Your System
Many players have reported that they have been able to play Far Cry 5 without seeing the error Redhorn-4800002 after they have installed a VPN in their system.
This could happen due to the fact that only some locations have faced this issue whereas others haven't.
If it is a region-specific problem in Far Cry 5 then changing your location with the help of a VPN should be able to fix the issue for you.
2. Check The Server Status
While trying to play Far Cry 5 in Co-Op mode if you see the error Redhorn-4800002 then you can try to check the server status and see whether the server is down for maintenance or is having an outage.
In such cases, you can wait till it is online again to play Far Cry 5.
However, if you find nothing is wrong with the server then also you can wait for some time before trying to open Far Cry 5 as there could be too many players due to which the server is having issues running the game.
3. Do A Power Cycle Of Your Router
You can also do a power cycle of your router to make sure that it is not a connectivity issue from your side.
To do that you will have to first switch off the router and wait till all the lights have turned off and then unplug it from the connection and wait for a few minutes.
After this plug, it in again and then switch the wifi on.
You can also check the internet connection by exchanging the wifi setting with cellular data to see whether your wifi is working.
If there is anything wrong with your router or wifi then contact the local service provider to get it fixed.
4. Update Your System
For the next fix, you should check whether your system is fully upgraded.
You need to have to upgrade your OS to the latest version as there can be some issues due to which Far Cry 5 may not be able to run on your outdated OS.
Your system should be taking auto-updates, however, you can manually update it by going to the Settings of your system.
5. Restart Your System
You can also restart or do a reboot of your system as an alternative fix and check whether doing that has fixed the error Redhorn-4800002 in your Far Cry 5.
If the issue is happening due to a bug in your system then doing this could refresh the system and solve the error.
6. Contact The Far Cry Support Team
After you have tried all the solutions given in this section you should be able to solve the error Redhorn-4800002.
However, if you still can not solve it then you should do as the error message says and contact the Far Cry Support Team.
They will be able to guide you as you convey your issue to them.
Similar Posts: