The NFS Heat Studio is focused on exploration and creation.
Players can participate in authorised racing competitions, earning money to spend on new vehicles and improvements in NFT Heat Racing Cars.
When you want to design your ideal vehicle, you can swap out car parts and design and install your unique wrap with the help of NFT Heat Studio.
Then you can import your device after unlocking the vehicle simply by clicking the Studio button in the Gurage.
If you are an NFS Heat fan, it would be frustrating when you want to save your car's customized upgrade and appearance and you can't save it.
Instead, you will get the following error Message: "Attention: Attempt To Save Customization Changes Failed".
You can fix the Attempt To Save Customization Changes Failed error in heat studio by following these simple hacks and tracks.
Stay tuned to the end.
What Causes Attempt To Save Customization Changes Failed Error To Occur?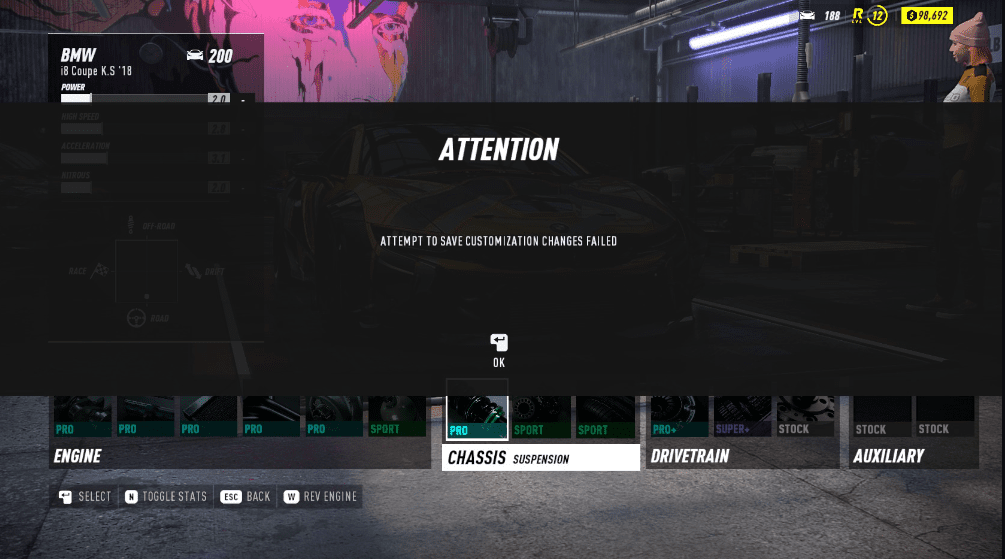 The "Attempt to Save Customization Changes Failed" means you cannot save the customized upgradation of your car. The error usually occurs when a car has a rate above 250MPH.
The other possible reasons are
The NFS Heat Studio server is down
Need to update the NFS Heat Studio or Need to fix the Bug in the NFS Heat core file
error while customizing your car
Not enough space on the disk
Let's begin the troubleshooting process step by step.
How To Fix "Attempt To Save Customization Changes Failed" On NFS Heat
Before getting into the fix, ensure your internet connection is stable since it accesses high graphics and bandwidth.
Secondly, check the NFS Heat server status, and the server is up and working fine.
Check with other community forums or users whether they are facing the same error.
You can check the status by clicking the link where the issue will be reported.
1. Check Your Return Gear Ratio
Retune the gear ratio slider to the left (short) so that the car has a speed lower than 250mph. 
You should be able to customize/tune your car now.
Re-tune the gear ratio to your preference afterward. Always ensure your car has a rated speed below 250mph before customizing.
2. Re-Enter The Garage In Your Game
It seems not logical. But Altering small steps help you remove any communication glitches or minor errors while processing the request and help you to refresh it.
Do the following:
Come out of and enter again into the garage
Switch to another car and switch back
3. Reset The Customization Of Your NFS Heat Studio Game Design
Still, you cannot save the changes; you need to reset the customization.
You need to reset the following customization to save the changes without error.
Performance customization: Reset Performance Customization and customize it again.
Visual Customization – Reset Visual Customization, including and customize it again.
Livery Customization – Save livery into a new slot
Reset Paint Job – Have you applied paint job by borrowing from your friends? Reset your paint job on your car.
Don't forget to save on each customization. So that you can identify where the error lies, and you can even skip that customization to continue saving the changes without any error.
4. Incorrect Speed Rating Customization
If the speed rating is not set correctly during customization, you likely get the error when saving your customization.
It is a minor issue and will work on many scenarios.
The rated and actual top speed may not match, especially when the final drive & gear ratio is tuned to be low/long.
5. Liveries Applied To The Wrong Car In Customization
You should not have an increased number of livery slots in your car.
You need to reapply Livery slot if you have a lot.
Due to the increased number of livery slots, some liveries might be applied to the wrong car.
It would help if you reapplied the livery/reapplied & saved the livery to a new slot.
6. Disable Antivirus Defender And Antivirus Program In Your System
In short, windows defender or the Antivirus program will automatically delete some files while saving.
So disable them temporarily and try saving the customization.
You can enable it whenever you want later.
7. Sell Your Car And Purchase Another In NFS
If the error persists, sell the car, purchase a new one, and try customizing it.
Try customizing different cars and save the changes. If you can work on it properly, then the issue with your car will be.
You will see the error is removed, and now you can upgrade your customized design on your ideal car.
None of the troubleshooting steps works. Then you need to check your disk space.
Other common fixes will be
Remove and delete unwanted files to free up your disk space.
Completely reinstalling the game will fix the issue.
This article was helpful to you, and the problem with your NFS Heat studio has been fixed successfully.
With this knowledge, you can identify the cause for the issue on the spot and resolve the error Attempt To Save Customization Changes Failed.
Follow us for more technical advice like this.
Similar Posts: