Are you having trouble trying to watch a video on Amazon Prime?
Maybe every time you try to play it, an error notification pops up, "This Video is not available due to geographical licensing restrictions, For more details please refer to Amazon Video Terms of Use."
This can be extremely frustrating at times when you are trying to watch the latest show that you have waited months for.
In that case, we are here to help!
Many users have reported that they have been seeing this error message pop up recently even when their geographical location is not an issue for the video.
In this extensive guide, we will be addressing the reasons why you might be seeing the error code 4601 in your Amazon Prime and how you can easily fix it.
What Are The Reasons For Amazon Prime Video Error 4601?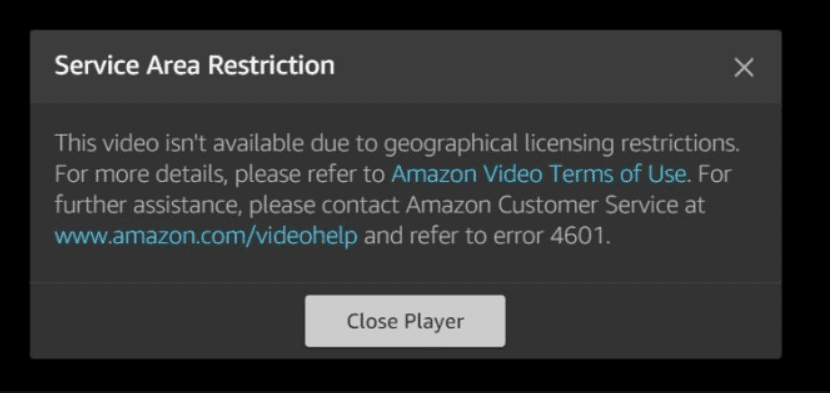 There can be a few reasons why you are seeing the Amazon Prime video error code 4601.
It can range from an unavailability of the video in your region to an issue with your browser extensions.
Below we have listed some of those reasons for your convenience.
Geographical Unavailability: If the video is not available in your location then that is the major reason why you are seeing the error code 4601. Not all videos on Amazon Prime are available in every location. Make sure to check whether the video is available before you try to open it on your device.
Antivirus Issue: Your Antivirus might be the reason why you aren't able to open Amazon Prime video on your device as some antiviruses are prone to be overprotective and block any software that they think to be malicious.
Browser Extension Issue: If you have multiple browser extensions enabled in your browser then chances that any extension is creating issue as the browser extensions could be blocking it from getting played.
How To Fix Amazon Prime Video Error 4601?
In this section, we will be looking at the fixes that will allow you to fix the issues of Amazon Prime Video Error code 4601 in your device.
Before we delve into any fix make sure that you have checked whether the video that you want to watch is in Amazon Prime, if it is and you are still seeing the error code while typing to open it then try the fixes except the first fix.
However, if it isn't then try the fix to solve the issue.
1. Use A VPN With Your Device
If the video that you want to see is not available in your region then make sure to use a VPN with your device and set the VPN address to a location where the video is available while trying to open it from Amazon Prime.
Don't use any VPN off the charts but use the VPNs that work with Amazon such as NordVPN and Express VPN.
Now that you have set your location to a region where the video is available you should be able to see it on your device without getting the error 4601.
2. Disable Your Antivirus
The antiviruses can at times cause the software to stop functioning properly.
If your antivirus thinks of Amazon Prime to be as malware then it will stop your device from connecting to it.
There isn't much chance of showing error code 4601 in that case but on the off chance that it does happen please disable your antivirus and then try to open Amazon Prime Video and you will be able to check whether the issue was happening due to your Antivirus.
3. Disable Browser Extensions
Browser extensions can at times cause the issue of a video not opening on your device.
Make sure that you have disabled all browser extensions and that you are trying to open Amazon Prime video on your device.
4. Check Your Region Settings
You should also check the region settings of your Amazon Prime account.
If your country or region has been changed then that could be the reason why you are facing the geographical restrictions.
Not all videos are available in every geographical location.
Changing your country or region to the one it was before might help in making the video available again.
5. Contact Amazon Support Team
After you have tried all the fixes above and you are sure that the video is not restricted by geographical location then please contact the Support Team of Amazon and check with them why this error 4601 is showing up in your Amazon Prime Video.
Amazon's Team of personnel will be able to help you out.
Similar Posts: