Are you being unable to contact some accounts on Instagram?
Instagram is a popular social media platform that has connected millions of users worldwide.
However, like any other online platform, Instagram has its own set of rules and regulations.
One of the most commonly encountered issues is the error message when trying to contact a disabled account.
The message reads, "Disabled Accounts Can't Be Contacted." This error message can be frustrating, especially if you are trying to reach out to a friend or a business account.
In this article, we will be going over what is a Disabled account in Instagram and how you can contact a disabled account. So, read on!
What Does "Disabled Accounts Can't Be Contacted" Mean On Instagram
The message "Disabled Accounts Can't be Contacted" on Instagram means that the account you are trying to contact has been disabled or deactivated by Instagram for violating their terms of use.
This prevents users from messaging or tagging the account in posts or comments.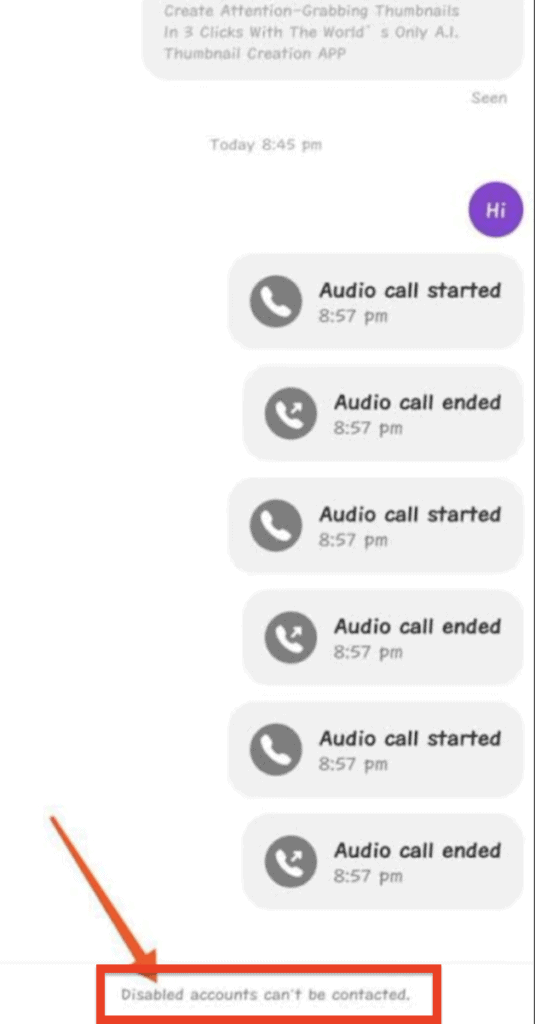 Accounts that violate the community guidelines of Instagram will be disabled by the authorities of Instagram.
The length might vary depending on the violation committed by the account.
If the account has not severely violated the guidelines or has not committed repeated violations then it might get disabled for a short period of time however if the violation is severe then Instagram can permanently disable the account.
How To Fix "Disabled Accounts Can't Be Contacted" On Instagram
To Fix "Disabled Accounts Can't be Contacted" on Instagram, User need to un-disable/ Reactivate their account whose account is disabled.
Apart from that There is no way to fix the "Disabled Accounts Can't be Contacted" message on Instagram.
If an account has been disabled, it's typically because the user violated Instagram's terms of use.
It's best to respect Instagram's decision and move on.
But sometime there is some bug/ glitch in Instagram due to which you can see the message.
If this is the case you can try below mentioned fixes.
1. Restrict And Unrestrict The Person
The first thing that you can do is to go to the conversation and check whether you can see the notification, "Disabled account can't be contacted".
Go to the conversation and tap on the person's profile. Next, tap on the three dots at the top of the screen.
Select the option Restrict and then confirm it.
Now, again go to the three dots and select Unrestrict.
2. Unfollow And Follow The Person
You can also unfollow the person and then again follow them after some time has passed.
When you click on the Following button in their profile you will automatically unfollow the person.
To follow them again click on the Follow button and that's it, you are done.
If their account is not disabled permanently then you will be able to contact them again when Instagram makes the account available.
3. Block And Unblock The Person
You should also block the person by going to their profile and then clicking on the three dots.
After that, you will have to unblock them by following the same process.
When their account gets activated again they will be able to contact you.
4. Wait For Sometime
You will have to wait for some time and check whether the account has been enabled by Instagram yet.
If you know the person on other platforms you can also ask them to inform you when their account gets enabled again.
If the account has not been disabled permanently then it is possible that it will be enabled soon by Instagram.
Similar Posts: