In over 163 countries around the world, ZebPay is the simplest way to invest and trade in crypto. If you are not happy using your Zebpay account, you can delete or close the account permanently. But you should know that after deleting the account once, you can't activate it again with the same KYC details. 
Steps to Delete Zebpay Account 
You need to follow the below steps to delete the Zebpay account permanently- 
Step 1: Firstly, you have to open the Zebpay application.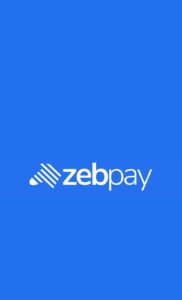 Step 2: You have to tap the 'menu' option.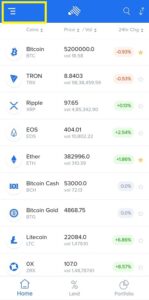 Step 3: Click on the 'Security Center' option.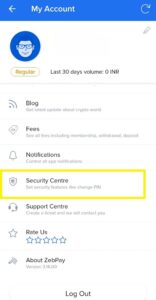 Step 4: Then you have to choose the 'Deactivate Account' option.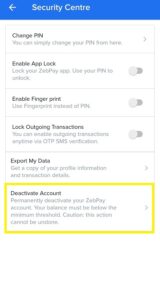 Step 5: Afterward, you have to click on any reason for deactivation. You have to choose among the four options floating on the screen. And tap the 'Deactivate' option.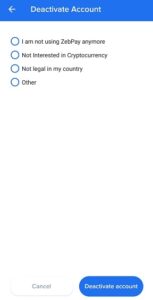 Step 6: Are you sure want to Deactivate your Zebpay account. click on Deactivate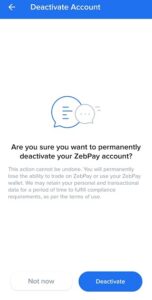 Step 7: You have to enter your security PIN.
Step 8: Your request will be sent and your account will be closed within a few days. 
Step 9: You will receive an email at your registered email address. It will advise regarding the status of your account. 
Moreover, you can also submit an account deactivation request by sharing a ticket. You have to submit the ticket at help.zebpay.com
Things to keep in Mind before Deleting Zebpay account
Before deleting or closing your Zebpay account, you must be careful about the following points- 
After deactivating your account once, you cannot activate it again. 
After deactivation, you will not be permitted to open another account with the Same KYC details. 
In case of an incomplete KYC verification process, you cannot close the Zebpay account. 
You must be aware that your Zebpay account transaction history, mobile number along with your KYC details will be saved permanently. It will not be removed even after closing the account. 
You have to make sure to transfer all your available cryptocurrency balance to another wallet before closing. Once closed your available balance will be terminated. 
Closing the Zebpay account is not a tough nut to crack. You must follow the steps carefully. And before closing the account there are some points that you must be aware of.
Frequently Asked Questions
How to contact Zebpay? 
You can contact zebpay via dpo@zebpay.com. You can also call at 1860-233-0474. 

How can you complain to Zebpay customer care? 
If you have any complaint, you can easily drop an email at help@zebpay.com. The customer care support will contact you back. They will try to help you as soon as possible.
Recommended:
8 Cryptocurrency Trading and Investing Tips
5 Common Cryptocurrency Scams & How to Prevent Them