Are you having issues trying to use the Reply Button on Twitter?
Replying to a post is one of the main attractions for users to use Twitter however if every time you try to reply to a post you are unable to do so that can cause frustration in your life.
Twitter is one of the most popular social media apps that helps us to keep connected with not only friends and family but also keeps us updated about the happenings around the world.
But similar to other social media sites Twitter can also have issues that can cause problems for its users.
In this article, we will be going over the reasons why you are unable to use the Reply button on Twitter and what you can do to fix it.
Why Is Twitter Reply Button Not Working?
There can be various reasons why the Twitter Reply button is not working from your device.
The issues can range from server outages to a bug in the system of Twitter.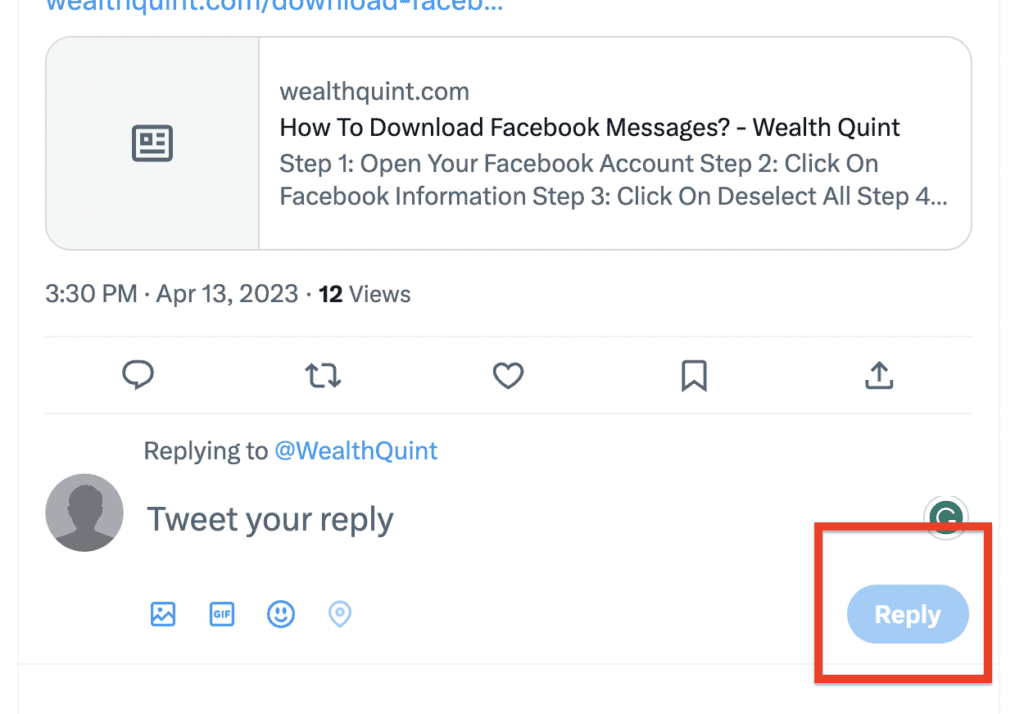 Below we have listed some of the reasons in detail for you to go through.
You have VPN enabled on your device.
There is an uncleared cache and cookies in your browser.
Browser extensions are interfering with the functions of Twitter.
Twitter is not updated to the latest version on your device.
The browser needs to be updated to the latest version.
How To Fix Twitter Reply Button Not Working?
Now that you have been able to identify some of the reasons why your Twitter Reply button mgt not functioning properly, we will take a look at the fixes that you can try to solve it.
1. Logout & Log In To Twitter
To fix Twitter Reply button not working You can log out of your Twitter account and then log in again and then check whether that has solved the issue of the Twitter Reply Button not working.
2. Clear Browser Cache And Cookie
The next solution you can try is to clear the browser cache and cookies and then try to open Twitter.
Your Twitter Repluy button not working could be due to having too many cache files or cookies in your browser.
To do that just follow the steps below.
Open Chrome.
Go to the three dots at the top right corner and click on them.
Select the option of More Tools.
Click on Clear Browsing cache from the menu.
Check all the boxes and select Clear Data.
Now, close the tab.
3. Disable Browser Extensions
Another fix that you might try could be disabling browser extensions before you try to open Twitter.
Browser extensions can often interfere with websites and cause them to malfunction in your browser.
Due to this we strongly recommend that you disable your browser extensions before trying to use the reply button on Twitter.
Open Chrome.
Click on the three dots at the top right corner.
Select More Tools.
Go to Extensions and disable all the browser extensions from there.
Now close the tab and open Twitter.
4. Check For Twitter Outages
If Twitter is having any server outage or is going through scheduled maintenance then you will not be able to use Twitter properly until it is solved.
Twitter undergoes scheduled maintenance regularly, so that could be the reason why you aren't able to use the Reply button.
Make sure that the Twitter server is online and not having any outages before you try to use it.
If you see that it is having an outage then wait until the technical team fixed it and after that, you can again use Twitter without having any issues.
5. Update Your Browser
If the browser that you have been using to open Twitter is not updated to its latest version then that could be why you are having issues trying to use the Reply button.
Programs go through regular updates to work properly in the system.
You can easily update the browser by going to its official website.
After that try to open Twitter and use the Reply button and now you should be able to use it.
6. Check For Twitter App Updates
Make sure that your Twitter app is updated to the latest version on your device.
Twitter regularly updates its software so it is possible that you have somehow missed the latest update.
In that case, please go to Play Store or App Store and update Twitter to the latest version.
After you finish updating open Twitter and check whether you can use the Reply Button now.
7. Disable VPN Or Proxy
If you have VPN or Proxy server enabled on your device then you will have to disable it. VPNs often cause problems and make the program function abnormally.
Many times the servers think that the service requests are spam due to VPN giving a false location of your device to the servers.
You should be able to use all functions of Twitter after you disable your VPN or uninstall it from your system.
Similar Posts: