MetaMask is a digital cryptocurrency wallet adapted to interact with the Ethereum blockchain. It enables the users to access their Ethereum account through a known browser extension or a mobile app, interacting with trusted applications.
This Ethereum blockchain is a system where users can design their apps (dApps) and crypto-assets. Ethereum also permits its users to pen down transaction strategies which are usually called "the smart contracts."
MetaMask serves the purpose of storing keys for Ethereum crypto tokens exclusively. It has significant security measures that make it a considerably safe digital wallet. Importantly, it does not save your wallet details on its servers. 
Also Read: Cryptocurrency Burning Meaning
Ways to Contact MetaMask
MetaMask only gives support through their Help-Center and Community channels, where people ask mostly questions and get the answers they need.
Note: MetaMask will not inquire about your Seed Phrase or Secret Recovery Phrase for anything or by any means.
To contact The MetaMask support team, all you have to do is submit a ticket describing the issue you are facing on the conversation box located right in the front of the page.
Note: Because of the nature of MetaMask technology, blockchain transactions made on the app, which are verified and confirmed, are not reversible to the sender. 
You can also contact the customer support team of the MetaMask platform by sending a direct message via Twitter @MetaMaskSupport or the blog address: https://medium.com/MetaMask
Contact MetaMask Through Twitter Account
you can contact or post your query on Twitter as a tweet. MetaMask team will reply ASAP
MetaMask Twitter Account Twitter Handle: https://twitter.com/MetaMaskSupport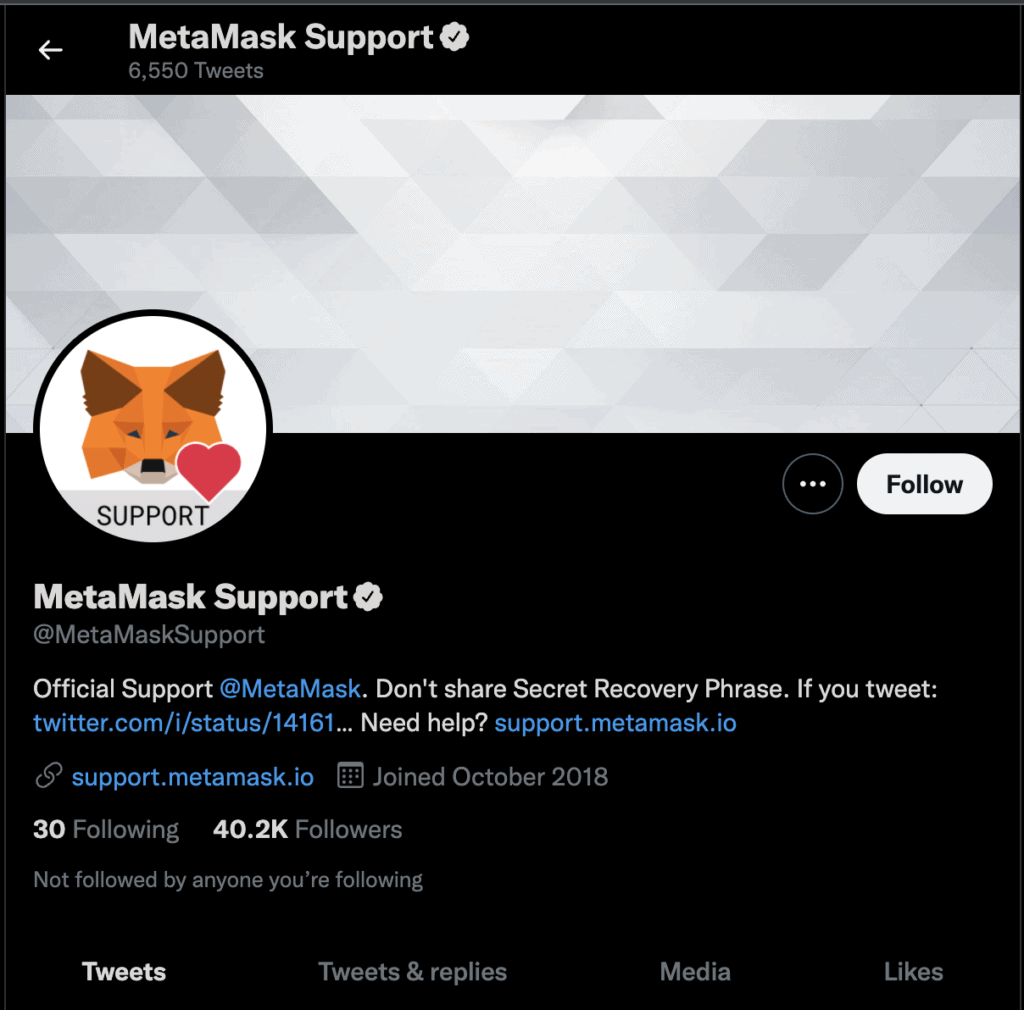 MetaMask Email Address
To send an Email to the Customer service team, use this email: support@MetaMask.io
MetaMask Phone Number
No stipulated phone number can be used to contact the MetaMask customer support team as the wallet does not yet support it. Every inquiry should be sent as a ticket on the mentioned email or Twitter account.
Also Read: NFT Drop Meaning
Conclusion
MetaMask has not yet built a good user experience platform, excellent support systems like other exchanges such as Robinhood, Coinbase, etc. This is a significant drawback to the best a user can enjoy investing. However, it has the strategies that make it outstanding over other digital wallets.