With over 300 million subscribers, Spotify is one of the most popular online music services in the world. Spotify is for anyone and anything, regardless of your musical tastes.
With Spotify, there will never be a boring time when it comes to music, podcasts, or audiobooks. But what happens if it doesn't work anymore?
A large number of members across multiple platforms and devices will be impacted. After all, it can be difficult to process so much music across such a large network of devices.
Why is Spotify App not Working? 
Spotify app may not work sometimes due to the following reasons- 
1. Poor Internet Access
Because Spotify runs on the internet, an unstable internet connection may be preventing it from playing your favorite music.
2. Low Storage Capacity 
Likely, Spotify isn't operating on your Android due to a lack of storage space for downloaded tracks. You could either delete some applications, images, music, videos, and other things to make room, or you can transfer data to a Memory card if one is used.
3. Pending Updates
It's equally possible that your Android smartphone's Spotify search isn't working due the application needs to be updated to the latest version. Patches, security upgrades, and UI/UX enhancements are common among these updates.
4. Server Outages
You're likely dealing with a more serious technical issue. Widespread outages can be caused by overcapacity or an internal malfunction, putting us without Spotify for hours at a time.
Also Read: How to Get Into The Metaverse?
How to Fix "Spotify App not working"?
When you face a problem while using Spotify, you can try the following tips-
Fix: 1 Force Stop Spotify App
If the Spotify app keeps crashing, you should force it to close. All internal operations or activities that may have enabled the application to crash will be successfully stopped as a result.
Even if you close an application multiple times, it may continue to run in the background. If Spotify isn't playing in the background on Android, force-stopping it will cease all front and background operations associated with it.
Fix: 2 Change your Internet Connection
To begin, switch your phone off for a few seconds. Restart your device and router to ensure a steady internet connection. Examine your internet connection to check if there are any issues.
Switching between Wi-Fi and Data is also a good idea. Try a new Wi-Fi connection if you're connecting to Spotify via Wi-Fi. If one runs but not the other, the WiFi connection is either blocking Spotify or refusing to accept SSL.
Fix: 3 Restart the Spotify App
If Spotify isn't streaming your music or is experiencing trouble, a restart can help. There are sometimes several background processes running, as well as various apps that we switch between during the day.
Some of these apps and activities may become stuck in a loop, causing problems with other apps such as Spotify. All of this will be cleared when you restart your phone, clearing up any previously blocked memory.
To further save memory and minimize crashes, try restarting your smartphone at least weekly.
Fix: 4 Crossfade Should be Turned Off
Crossfade enables a seamless transition between songs rather than playing a song with a significantly different tone than the preceding one.
When you start a new song, however, this functionality may lead to complications, resulting in Spotify not functioning on your Android smartphone.
Disabling the Crossfade function on Android may also help you fix Spotify not playing some tracks. 
Steps To disable Crossfade in the Spotify app:
Step 1: Under Spotify > Preferences, scroll down to find the Playback header.
Step 2: Here you can enable or disable crossfade. Turn it off if it's on and see whether your music still plays.
Fix: 5 Verify that Spotify is in Online Mode
Spotify will only play music and podcasts that you've downloaded when you're in Offline mode, so you won't be allowed to listen to music online.
You may check if Spotify is in Offline Mode by tapping Spotify on the top-left side of the display and verifying that Offline Mode doesn't even have a checkmark next to it. On Android smartphones, Spotify's offline mode may not always operate.
Fix: 6 Resync Spotify 
You'll have to log back in at least once every 30 days if you've downloaded a lot of songs and only use Spotify in Offline Mode. Otherwise, the songs you've downloaded won't even play.
You'll need to sync Spotify if it's been over 30 days since your last login or if you've been playing it in offline mode for over a month. Switch to Offline Mode after that, and your tracks should start playing again.
Fix: 7 Sign off Spoitfy
When a person logs in from several devices, authentication issues can occur. As a result, you need to log in again to verify the device that is having problems with the Spotify app.
As a result, the quickest option is to log out of the application first if Spotify tends to pause or won't play on your phone.
Fix: 8 Update the Spotify App
You may be using an older version of the Spotify app on your Android device, that is one of the reasons why it's not working.
Apps must be updated regularly since developers release bug fixes, patches, and additional features as part of in-app upgrades. You can keep your Spotify app up to date by going to the Google Play Store.
Fix: 9 Clear Cache of Spotify App
One of the reasons could be an overloaded cache on your device. Because all information related to the music you listen to, such as lyrics, album information, songs stopped in the process of the download process, and so on, is gathered here.
This consumes storage on your phone, slowing it down and leading it to crash sometimes. Clearing your cache will open up space on your device, allowing the Spotify app to function properly.
Fix: 10 Clear Data of Spoitfy App
Clearing the app's data can help it run faster and fix a variety of problems. Removing data from the app will delete your account as well as any of your account data and information, along with your offline tracks, podcasts, and other media. It will revert the app's notification or sync settings to their defaults.
Fix: 11 Uninstall and Reinstall the Spotify App
Uninstalling Spotify is a good idea if it unexpectedly quits playing on your device. Log out of the app first, then uninstall it to prevent losing your data.
This will remove any data associated with the app from your device, which may aid in the resolution of the issue. This is because the more you use an app, the more data and files associated with it are stored on your device.
This can cause broken links and files to vanish, leading Spotify to stop working. Reinstall the app on your smartphone and log in with your credentials to see whether the problem still occurs.
Is Spotify Down? 
To check if Spotify is down or not, you can see to down detecter. You will get to know if Spotify is down or not. If Spotify is/ was down at what time it was down.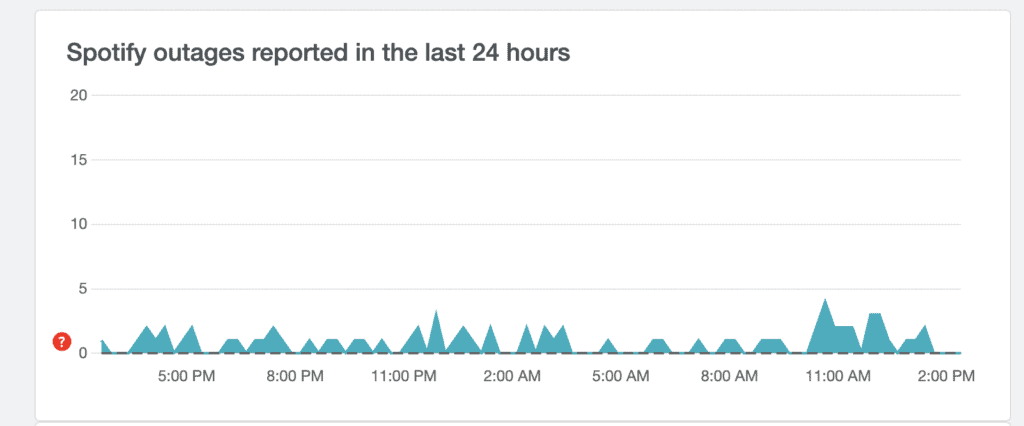 Conclusion
We hope the methods in this article helped resolve your device's Spotify app not responding to the issue. You can contact the Spotify support team if you still can't get into the app.